by Yaakov Lappin: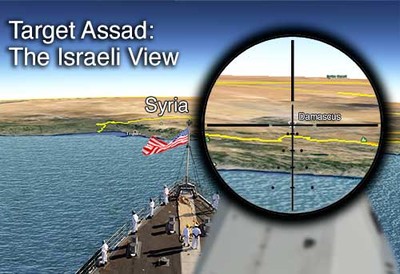 A vital debate is raging in the United States over a key question: Does the Assad regime pose a greater threat to international security than the radical Islamist elements fighting to topple the Syrian dictator? And how would a military strike alter the balance?
As Congress debates the merits of military action in Syria, concerns are being raised by some observers that hurting the Assad regime could strengthen the al-Qaida-affiliated groups, thereby doing more harm than good to regional and global security.
During these tumultuous and chaotic times in the Middle East, it is more difficult than ever to assemble and update an accurate, comprehensive threat assessment picture, one which takes into account both near and distant dangers, and which can distinguish between security problems based on their level of severity.
There is not one uniform view among Israeli defense experts over what outcome would be best for Israel, in light of the fact that no one can know with certainty what will come in Assad's place.
Most observers agree that from Israel's perspective, the al-Qaida-affiliated organizations in Syria pose a very real and growing threat, but one which is significantly smaller in scope and more easily contained than the threat posed by a far more powerful axis: Iran, the Assad regime, and Hizballah.
This view is based on the fact that the Syrian regime forms a central component in the Iranian bloc. It is this bloc, on the verge of obtaining nuclear weapons, and with access to unconventional weapons and state-sponsored conventional weaponry, that is the No. 1 threat to Israel's security.
Syria is the bridge connecting Tehran to Hizballah in Lebanon. Bashar Al-Assad has brought Syria closer to Iran and Hizballah, and today relies on them for his survival. Assad is facilitating the transit of advanced Iranian arms to Hizballah, as well as supplying it with Syrian-made weapons.
Syria is viewed by the Iranian regime as its critical forward base and springboard to eventual regional domination.
With Syrian help, Iran has armed Hizballah with 70-80,000 rockets that are pointed at Israeli cities. Hizballah's firepower has the potential to paralyze the Israeli home front in a future war.
The most critical threat is the Iranian nuclear weapons program, which is edging forward all the time.
If Iran isn't stopped, Hizballah, and other terrorist semi-states like Hamas in Gaza, could try to attack Israel while enjoying protection from an Iranian nuclear umbrella.
The same pattern can repeat itself on an even larger scale in the future. Iranian-sponsored terrorist networks might attack Western cities with impunity if they are emboldened by a nuclear-armed Iran.
The collapse of the Assad regime would deal a serious blow to Tehran and Hizballah, while significantly improving Israel's strategic situation.
Read more at IPT