From reading the American press, you would believe that if Middle Eastern Muslims were allowed to govern themselves by having free elections, this would be the route to democracy. This is a fallacy that we have been following now as a matter of American foreign policy for many administrations and many years. You cannot tell me that, after the same Egyptians voted two-to-one to have an intense Sharia constitution, eight months later they suddenly did not want Sharia any more. What they decided was that they did not want Morsi any more.

If here is ever to be anything approximating democratic transformation in Egypt the only way it is going it happen is if Egypt has a respected institution, such as the military, that governs the country, with the help of whatever technocratic officials it needs to run the country day-to-day, and where the forces of secular democracy at least have a chance to compete — which means growing these institutions to cultivate a respect for minority rights and individual liberty.
The good news is that the Egyptians will not be able to keep their Sharia constitution, at least not the way the Muslim Brotherhood designed it. But the way it was covered in the United States, this was not reflected as good news.
What is going on in Egypt now, while I wouldn't go up in a balloon over it, is much more of a ray of hope than anything that we have had previously in what has been called the Arab Spring — a misnomer, if ever there was one. We actually knew quite a bit about how Egyptians wanted to be governed before Mubarak fell thanks to polling that was done there – in fact, done not only in Egypt but across the Middle East, from Egypt all the way to Indonesia.
There was pretty authoritative polling, for example, done by the University of Maryland in 2007 in conjunction with an outfit called World Public Opinion. It indicated that, depending on where you asked the questions, upwards of two‑thirds, and in some places over 80% of Muslim populations across the Middle East, wanted to live under Sharia, Islam's legal code and societal framework.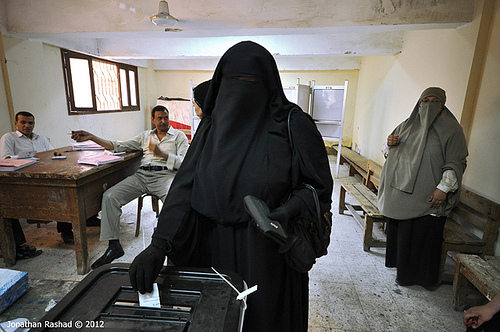 An veiled woman casts her ballot in the second round of Egypt's presidential election, in 2012. (Image source: Jonathan Rashad/Flickr)
Let me briefly address what Sharia is. There is no division in Islam – at least in classical Islam, Islamic supremacism, which is the Islam of the Middle East – between the secular and sacred realms. Sharia has ambition to be a total societal system.
To call it just a legal code really does not do it justice, because its ambition is to govern everything from the great things to the small things, from the matters of economy, military relations, the setting up of a government or caliphate, down to interpersonal relations and even matters of hygiene. It is a soup to nuts framework for how life is to be lived – it is not only, in many countries, about girls being prohibited from attending school, but about the many other ways in which girls and women are suppressed, not only their education, but professionally and in interpersonal relations as well.
From the Islamic perspective there is a belief that Islam has to be imposed, and that Sharia is the necessary precondition for Islamizing a society. The first World Trade Center bombing was really our first significant exposure in the United States to radical Islam conducting terrorists attacks on our shores in what turned out to be a systematic way over time.
It is interesting to me that 20 years after the World Trade Center bombing we still do not have a good understanding in the United States of what Jihad is. If you listen to the apologists for Islamic supremacists who are featured frequently in the media, you would think that it is an internal struggle for personal betterment; that it doesn't have any military component. If you listen to them long enough, you would come away thinking that it wasn't anything more meaningful than remembering to brush after every meal.
But Jihad is essentially a military concept, and people on our side, or on the national security side, of this debate have it wrong when they say it is everywhere and always a military concept.
What it is — everywhere and always — is the advancement of Sharia. It is about the implementation of Sharia. Whether jihad is done violently or non‑violently, the point is to implant Sharia because Sharia is seen as the necessary building block for Islamizing a society.
In the Middle East, it should tell us a lot that people across the region and in Egypt by upwards of two‑thirds said that they wanted to be governed under Sharia law. It should have given us a real clue about what was apt to happen once Mubarak fell and what, in fact, did happen once Mubarak fell. For all the hullabaloo about "democracy" and "democracy promotion," the first election in Egypt — about two months after Mubarak was ousted — got very little coverage. I think it was the most important of all of the elections they had – then and thereafter. The media did not cover it much in the United States and in the West; it was dismissed as a procedural election about scheduling and something to do vaguely with constitutional amendments.
Read more at Gatestone Institute