Gatestone Institute, by Soeren Kern, February 21, 2015:
"O Europeans, the Islamic State did not initiate a war against you, as your governments and media try to make you believe. It is you who started the transgression against us, and this you deserve blame and you will pay a great price…. We will conquer your Rome, break your crosses, and enslave your women, by the permission of Allah." — From a jihadist video threatening Italy.

"We Muslims in no way need your help to drag us down into a sad, Western culture where youth suffer from a capitalist existential void which causes widespread depression, addiction, self-injury, and even an alarmingly high rate of suicide. It is clearly the Danish people who need help to find the correct meaning of life, and here we would like to help." — Junes Kock, Danish convert to Islam and spokesman for Hizb ut-Tahrir, Scandinavia.

"There seems to be something going on in Scandinavian countries, and I think it's been the reluctance to actually identify and confront hate preachers." — Haras Rafiq, managing director, Quilliam Foundation.

"So far we have been lucky [to avoid a major terrorist attack in Germany]. Unfortunately, this may not always be the case." — German Interior Minister Thomas de Maizière.

The Swedish welfare agency Socialstyrelsen estimated that 38,000 girls and women in Sweden have been subjected to female genital mutilation, and that another 19,000 are "at risk" of having the procedure performed on them.
In Austria, the government threatened to close the Vienna-based King Abdullah bin Abdulaziz International Centre for Interreligious and Intercultural Dialogue (KAICIID), due to its refusal to condemn the flogging of Raif Badawi, a Saudi human rights activist and blogger who has been sentenced to 1,000 lashes and 10 years in prison for "insulting Islam."
Saudi Arabia responded to the threat by issuing a counter-threat to move the permanent headquarters of the Organization of the Petroleum Exporting Countries (OPEC) out of Austria.
Austrian Chancellor Werner Faymann said: "If this center says it stands for interreligious dialogue, then it must do so. But if it wants to remain only an economic center with a religious fig leaf, then Austria should no longer be a part of it. In any event, Austria will not allow itself to be threatened or blackmailed."
On January 20, the government announced a new plan to spend nearly 290 million euros ($330 million) to combat terrorism over the next four years. The largest share of the money (126 million euros) will be dedicated to human resources to provide additional training of specialists for cyber security, crime fighting and forensics. At least 13 million euros will fund "de-radicalization" programs aimed at cracking down on Islamic extremism in the country.
In Vienna, city officials closed a private Islamic primary school in the Brigittenau district, over concerns that teachers were endangering the welfare of the students. The move came after the principal failed to call an ambulance when a six-year-old pupil was knocked down by a classmate and seriously injured her forehead. The incident was not reported until the following day, when the girl still had significant swelling.
The school's principal allegedly prohibited the teaching staff from cooperating with local authorities in order not to upset the children's parents, many of whom are immigrants from Chechnya. The school said the charges against it were motivated by "Islamophobia."
Previously, Austrian authorities initiated a review of the Islamic Austrian International School in Vienna after local reporters obtained a copy of a school history textbook that contained conspiracy theories and incitement against Jews. It later emerged that some parents had forbidden their children to attend music lessons at the school on the grounds that music isharam, or prohibited in Islam. The music teacher was subsequently fired for drawing attention to the problem.
In Belgium, two suspected jihadists, Sofiane Amghar, 26, and Khalid Ben Larbi, 23, were killedon January 15 in an anti-terror operation in Verviers, a city close to the German border. Prosecutor Eric Van Der Sypt said police had targeted a cell of jihadists returning from Syria, who were planning to launch imminent attacks.
After the shootout, police seized police uniforms, explosives and four AK-47 assault rifles. Thirteen other Belgian nationals were charged in connection with the raid, five of whom were charged with "participating in the activities of a terrorist group." The suspected ringleader of the cell, Belgian-Moroccan jihadist Abelhamid Abaaoud, remains at large.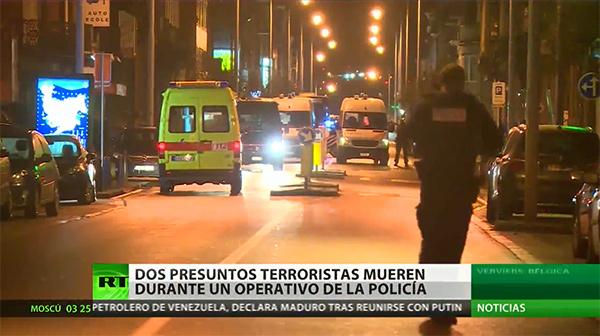 Belgian police vehicles crowd a street in Verviers, where an anti-terror raid resulted in a shoot-out that left two jihadists dead, January 15, 2014. (Image source: RT video screenshot)
Belgian authorities revealed that 335 Belgian nationals have gone to fight in Syria and Iraq, making it the European country with the highest proportion of jihadists in the Middle East. Of the 335, 184 are on the battlefield, 50 have been killed, and 101 have returned to Belgium.
On January 4, a Muslim inmate at the prison in Vorst stabbed six prison guards with a knife. The inmate, a 35-year-old Moroccan named Rachid El-Boukhari, had been sentenced to 27 years in prison in December for setting fire to a Shiite mosque in the Anderlecht district of Brussels. The imam of the mosque died in the blaze. El-Boukhari has now been transferred to a maximum-security prison in Bruges, where he joins Mehdi Nemmouche, a 29-year-old French national of Algerian origin, who is awaiting trial for murdering four people at the Jewish Museum in Brussels in May 2014.
In Antwerp, Mayor Bart De Wever postponed a march by PEGIDA Vlaanderen, the Flemish branch of the German anti-Islamization group PEGIDA, due to the heightened terror threat in the country. The demonstration, as well as a counter-demonstration, was to have taken place on January 26. It was rescheduled for March 2, according to the group's Facebook page.