by Yaakov Lappin: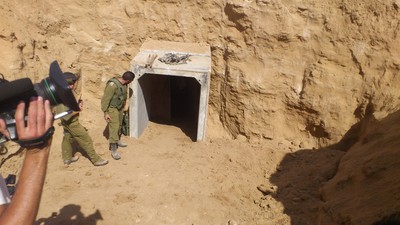 Photographs by Yaakov Lappin
On the face of it, Israel's southern border with Gaza looks calm. But under the surface, signs are growing that Hamas is thinking ahead to when the current ceasefire will end, and is investing heavily in preparations for serious cross-border terror attacks on Israeli civilians and the Israel Defense Forces (IDF).
The clearest indication that Hamas's feverish terrorism industry is ticking along at full pace, despite the truce in place since November 2012, came this week, when the IDF announced that an attack tunnel stretching from Khan Younis, in southern Gaza, to Israel's Eshkol region had been uncovered.
On Sunday, military reporters were invited to inspect the tunnel; it immediately became apparent that the subterranean structure was anything but ordinary.
Over a mile long and 65 feet deep, the tunnel's size is astounding. Its height – six feet – allows most adults to walk upright comfortably along it. Along the walls, we saw electric cables and phone lines, as well as over 24,000 concrete slabs (by the IDF's count) that Israel had allowed into Gaza with the intention of assisting the civilian construction sector there.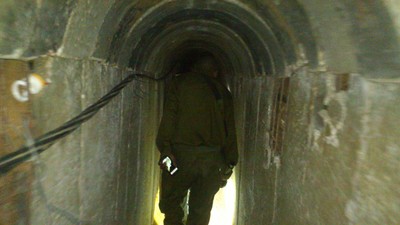 Hamas's cynical diversion of the materials, meant for the civilian economy, to its terror infrastructure led Southern Command chief Maj.-Gen. Sami Turgeman to cancel the transfer of further concrete to Gaza this week.
The tunnel splits into two branches, with one heading directly for an IDF border position and the second branch dug in the direction of the Israeli villages of Kissufim and Ein Hashlosha.
Hamas may have been planning a simultaneous attack, with one terrorist cell targeting IDF soldiers for death or capture (in order to extort Israel to release additional Palestinian security prisoners), and a second cell moving across the tunnel towards a civilian community to carry out an atrocity.
The military's assessment is that Hamas wasn't about to use the tunnel now, but rather, that it is preparing its operations for when the next round of violence breaks out.
Millions of dollars went into constructing the tunnel, one of three major tunnels found by the IDF this year alone.
"Instead of investing in schools, or civilian industry and employment, Hamas invests in terror," Turgeman pointed out. But he didn't come to the tunnel merely to chastise the Gazan regime. The southern commander also had a warning.
The tunnel, he said, "constitutes a gross violation of Israeli territory. If Hamas carries out a terrorism attack, it will pay a heavy prize, and Gaza will look different afterwards."
Read more at IPT
Related articles