If you want to help stop the legitimization of CAIR, then its sponsors need to hear from you.  You can contact Chicago's WABC7 via the station's Vice President of Community Affairs Diana Palomar at diana.palomar@abc.com, on Twitter @ABC7Chicago, or by calling 312-750-7777. You can register your complaints with Morgan Stanley on Twitter @MorganStanley or at phone number 212-761-4000.
by John Rossomando and Steven Emerson
IPT News
April 17, 2014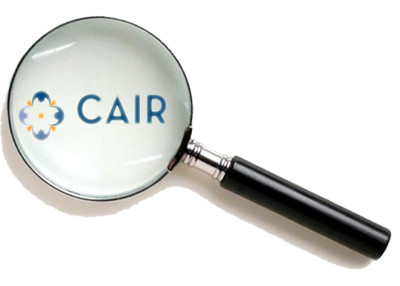 A federal court established a link between the Council on American Islamic Relations (CAIR) and the terrorist group Hamas, but that did not stop Chicago's ABC 7 joining Morgan Stanley and New York Life in co-sponsoring its Chicago chapter's March 15 banquet.
An FBI agent testified that CAIR was a Hamas front group in the 2008 Holy Land Foundation terrorist money-laundering trial. It was listed as an unindicted co-conspirator in the same case.
In a 2009 ruling, U.S. District Judge Jorge Solis wrote that the government's evidence delivered in the case creates "at least a prima facie (face value) case as to CAIR's involvement in a conspiracy to support Hamas."
Questions about CAIR's Hamas ties led the FBI to break off official contact with the group in 2008.
Its representatives have consistently claimed that the U.S. government frames terror suspects, defended Hamas and other terrorist groups against Israel, and told Muslims not to cooperate with the FBI.
CAIR tries to censor any media critical of "militant Islam" and "Islamic terrorism," two terms that the group has tried to scrub from the American lexicon.  It has even tried to censor prosecutors who use these terms.
So it was surprising to see Chicago's ABC affiliate, Morgan Stanley and New York Life Insurance Company among the sponsors of the recent CAIR fundraiser.
That a media outlet and established national financial institutions would sponsor an organization directly linked to Hamas and its censorship campaigns against human-rights activists who have decried attention given to "honor crimes" against Muslim women is curious to say the least.
CAIR recently launched a censorship campaign against the documentary "The Honor Diaries," which featured Muslim women talking about the violence committed against Muslim women around the world merely because they had incurred the wrath of their husbands or brothers. It also recently pressured the ABC Family Channel into dropping a TV series about a young Muslim-American teenager held against her will in Saudi Arabia by her Muslim relatives and forced to conform to the severe restrictions imposed on women by Islam's Wahhabi sect. And last week, CAIR successfully forced Brandeis University into rescinding plans to award an honorary degree to former Muslim and human-rights advocate Ayaan Hirsi Ali.
These campaigns demonstrate the true aim of CAIR: to erase from American culture, history and politics any reference to Islamic extremism.
In light of CAIR's extremism, its defense of terrorist groups and its routine censorship campaigns, the participation of national financial institutions and corporations—New York Life and Morgan Stanley – and a media outlet – ABC 7 – only serves to legitimize an organization that is the Muslim equivalent of the Italian American Civil Rights League, which was a front for the Mafia.
The station was a sponsor of the 2013 CAIR-Chicago banquet, too.
Perhaps most disturbing is the apparent collusion between a news organization and a group whose sole goal is spreading propaganda; this should raise alarm bells among all who look to news organizations for unbiased, neutral coverage.