by John Rossomando
IPT News
January 29, 2014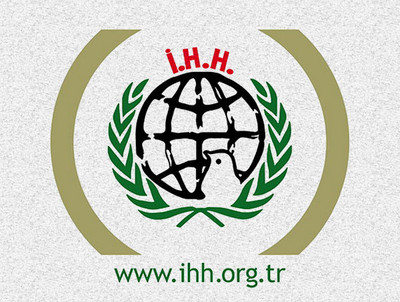 It has been implicated in the Millennium bomb plot targeting Los Angeles International Airport. It openly led a campaign to break Israel's blockade on Gaza – meant to block supplies and weapons from reaching Hamas terrorists. It has also been implicated in a Libyan gunrunning operation aimed at supplying Syrian rebels that allegedly involved an al-Qaida linked figure.
And now, six of its offices were raided Jan. 14 by Turkish authorities in connection with an investigation of al-Qaida.
The Turkey-based IHH Humanitarian Relief Foundation has been designated as a terrorist group by U.S. allies Israel, Germany and the Netherlands.
But three years after a super-majority of U.S. senators asked the Obama administration to designate IHH, nothing has happened. The letter, signed by 87 senators from both parties, came weeks after IHH organized a flotilla in conjunction with the group Viva Palestina, headed by British parliamentarian George Galloway, tried to break Israel's blockade of Gaza in support of Hamas.
The flotilla ended in violence when the ship ignored orders to turn away from the blockaded area. Ship passengers then attacked Israeli commandos with gunfire, knives and clubs. The Israelis noted that they were prepared for a fight. Nine IHH activists were killed.
The flotilla stemmed from the "Istanbul declaration" issued in February 2009 under the title of "Gaza victory" that the "Islamic nation" should aid Hamas in its jihad against Israel with "money, clothing, food, medicine, weapons and other essentials so that they are able to live and perform the jihad in the way of Allah Almighty." This jihad should continue until "the liberation of all Palestine" is achieved.
The declaration also said that Muslims should fight the blockade of Gaza in every way possible.
In the latest investigation, Turkish authorities accuse IHH of recruiting terrorists to fight alongside the al-Qaida brigades in Syria; evacuating the wounded terrorists in ambulances while simultaneously transporting new ones to the battlefield; and smuggling arms under the guise of providing aid.
The Turkish army stopped a truck purportedly owned by the charity on Jan. 1 under suspicion it was carrying weapons into Syria.
Germany, the Netherlands and Israel already list IHH as a terrorist organization. But the United States has taken no action.
The 2010 Senate letter to President Obama expressed deep concern "about the IHH's role in this incident and have additional questions about Turkey and any connections to Hamas. The IHH is a member of a group of Muslim charities, the Union of Good, which was designated by the U.S. Treasury Department as a terrorist organization. The Union of Good was created by, and strongly supports Hamas, which has been designated as a foreign terrorist organization by the US State Department. We recommend that your administration consider whether the IHH should be put on the list of foreign terrorist organizations, after an examination by the intelligence community, the State Department, and the Treasury Department."
A year later, five senators who signed the original letter sent the president a follow-up urging "your formal designation of IHH without delay." They pointed to a February 2009 Hamas rally in which they said IHH's leadership aimed to "overthrow governments and replace them with Islamist dictatorships." They also noted that Hamas's political leader Khaled Meshaal praised IHH head Bülent Yildirim for his support during a January 2009 meeting the two had in Damascus.
No reply was ever received, said Donelle Harder, press secretary to Sen. James Inhofe, who was among the senators who signed the letter.
Other efforts met with similar silence.