Gatestone Institute, by Raymond Ibrahim, February 1, 2015:
"They chopped children in half. They chopped all heads off. How do you respond to that? That is what we have been going through. That is what we are going through." — The Reverend Canon Andrew White, "Vicar of Baghdad".

"At dawn on Christmas Day, the barbaric regime of Iran hanged 7 people in mass execution in Shiraz." — NCR-Iran.

There are always more and more frequent cases where the blasphemy law is used to target religious minorities or to settle cases of disputes or private rivalries, or simply as an instrument of blackmail." — Shardar Mushtaq Gill, Pakistani Christian lawyer.

Sudan's security agents and police have "broad powers to arrest Christians and other lowly-regarded people without cause, for creating public disturbance. The Christians were released after paying a fine of $250 each." — Morning Star News.

Islamic law holds that new churches are never to be built in Muslim lands and existing ones never repaired. Even so, many of these partially wrecked churches continue to be used, and are even packed, during church services.
Once again, the month of Christmas witnessed some of the most barbaric attacks on Christians throughout the Islamic world.
After Andrew White, an Anglican priest known as the "Vicar of Baghdad," told of how the Islamic State [S] "chopped [Christian] children in half; they chopped their heads off," he offered the following anecdote:
IS turned up and they said to the [Christian] children, "You say the words [theshehada, to convert to Islam], that you will follow Muhammad." And the children, all under 15, four of them, they said, "No, we love Jesus [Yesua]. We have always loved Jesus. We have always followed Jesus. Jesus has always been with us." They [IS] said, "Say the words!" They [children] said, "No, we can't." [White starts sobbing] They chopped all their heads off. How do you respond to that? You just cry. They're my children. That is what we have been going through. That is what we are going through.
Christmas celebrations were, as usual, tense and sometimes bloody:
Somalia: Islamic terrorists boasted of successfully slaughtering Christians while "they were celebrating Christmas." Eight Islamic gunmen infiltrated the main African Union base in Mogadishu and killed three peacekeepers and a civilian contractor. Later, the Islamic group Al Shabaab claimed responsibility for the attack; it announced it had killed 14 peacekeepers whom it described as "Christian enemies": "We targeted the enemies at a time they were celebrating Christmas," said Sheikh Abdiasis Abu Musab, spokesman for Al Shabaab. Western diplomats who were celebrating Christmas in Mogadishu were evacuated to safety bunkers until the raid was over. Witnesses reported hearing bomb blasts and volleys of gunfire throughout the day.
Iraq: In mid-December, as people in the West were doing their last minute Christmas shopping, churches under IS authority were turned into torture chambers for Christians. According to a witness, "churches are being used as prisons and for torture. Three of the Christian prisoners died because they were sick and nobody cared for them." The witness, known as Abu Aasi, said that Christian prisoners in the churches are being forced to convert and that IS members have been "breaking all the crosses and statues of Mary." Other reports told of how Christian prisoners — blindfolded and handcuffed — were held at the ancient Chaldean Church of the Immaculate Conception in eastern Mosul, and that St George's monastery was now a female prison.
Pakistan: Christian minorities celebrated Christmas "with religious fervor by offering prayers in different churches under tight security," said one report : "heavy contingents of police were deployed in and around the churches at cantonment and city areas where movement of other people was restricted and the citizens were allowed only after thorough body search."
In Peshawar alone, approximately "2,000 policemen were deployed in addition to personnel in plain clothes … while the entry points leading to the churches had been closed by placing cemented blocks and barbed wire." Peshawar, of course, is where Islamic suicide bombers attacked the All Saints Church in September 2013, leaving nearly 90 worshippers dead — including many Sunday school children, women, and choir members — and approximately 120 injured.
Also in Pakistan, Elisabeth Bibi, a 28-year-old pregnant Christian mother of four, was "beaten, scorned and humiliated, deprived of her dignity [and] forced to walk naked through the town" by two Muslim brothers, the pregnant woman's employers, following an argument. In the ordeal, she lost her baby. Another report states that she was beaten with "pipes" and then robbed by the two Muslim men. Rights activists say the attack "was motivated because of Bibi's [Christian] religious beliefs." Bibi herself said that the Muslim family often tried to persuade her to convert to Islam. Police, as often happens when Muslims attack Christians, failed to arrest the two brothers, and Christian activists received threats to drop the charges.
Egypt: With the approach of the Christmas season, Islamic clerics and websites warned Muslims to refrain from any form of participation in Christian celebrations and condemned Muslims who offer their best wishes to their Christian neighbors during Christmas. There were also death threats and incitement to violence against churches, with particular reference to Christian communities in the governorates of Minya, Alexandria and Fayyum, where the Salafis and Muslim Brotherhood have a strong presence.
On December 24, or Christmas Eve, security forces "arrested seven members of a terrorist cell led by a 50-year-old deputy headmaster of a secondary school in the Minya governorate, who is accused of plotting violent acts during the Coptic Christmas celebrations," reports Zawya. Those arrested "were caught in possession of Molotov cocktails, pictures of the ousted Egyptian president [Morsi of the Muslim Brotherhood], and circuitry connected to mobile phones to detonate bombs from a distance, as part of a plan to disrupt the Christmas celebrations."
Elsewhere in Egypt, Christians "had to pray outdoors in spite of the cold air and the coming of Christmas, as the police were unable to protect them from Islamists' attacks," in the words of the president of the Egyptian Union for Human Rights, and because many of their churches, despite military promises, remain partially destroyed after 2013 Brotherhood uprisings (see church section below for more).
Iran: On Christmas day in Tehran province, nine Christians were arrested after a paramilitary force and armed plainclothes agents raided a house church where they were celebrating Christmas. The Christians were transferred to an unknown location. NCR-Iran adds, "The clerical regime in Iran continued human rights abuses in Iran during Christmas. At dawn of the 25th December, on Christmas day when hundred[s] of millions of people around the world were celebrating the birth of the Christ, the barbaric regime of Iran hanged 7 people in mass execution in Shiraz."
Nigeria: The Catholic Diocese of Maiduguri, capital city of Borno State in Muslim-majority northern Nigeria, experienced another tense Christmas. The city has been besieged by the Islamic organization Boko Haram, and streets were left vehicle-free on December 25 to avoid suicide attacks. Most of the 5,000 displaced persons welcomed in Maiduguri are in fact refugees from other regions that have fallen to Boko Haram.
These people, said Fr. Gideon Obasogie "have no homes, cannot celebrate Christmas as usual with their relatives and friends and are forced to live in a state of hopelessness. Despite fears of terrorist attacks — including widespread rumors of suicide bombers disguised as nuns— "the Catholic faithful went to Christmas Mass … to express their faith in an eloquent manner," reported the priest.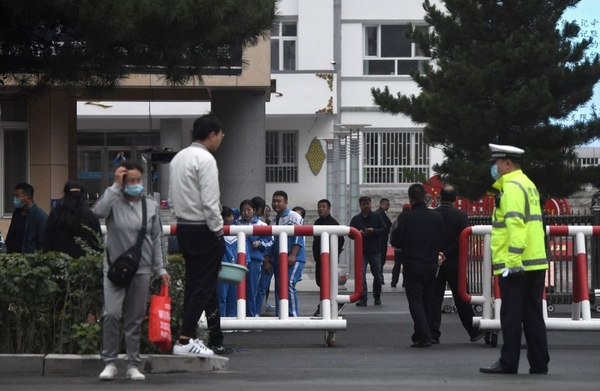 A Nigerian army emplacement in Maiduguri. (Image source: TV360 video screenshot)
Due to the continually worsening plight of Christians in the Middle East, even Britain's Prince Charles, who is often criticized of being overly sympathetic to and apologetic of Islam, said:
It seems to me that we cannot ignore the fact that Christians in the Middle East are increasingly being deliberately targeted by fundamentalist Islamist militants…. Christianity was literally born in the Middle East and we must not forget our Middle Eastern brothers and sisters in Christ… Yet today the Middle East and North Africa has the lowest concentration of Christians in the world — just four per cent of the population and it is clear that the Christian population has dropped dramatically over the last century and is falling still further…. We all lose something immensely and irreplaceably precious when such a rich tradition dating back 2,000 years begins to disappear.
The rest of December's roundup of Muslim persecution of Christians around the world includes (but is not limited to) the following accounts, listed by theme and country in alphabetical order, not necessarily according to severity.