IPT News
May 14, 2013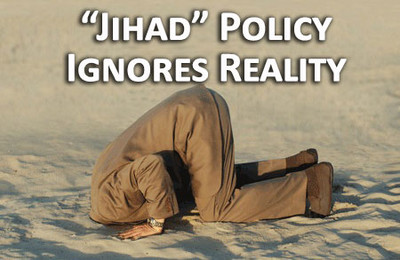 The Obama administration's policy banning references to "Islamic extremism" and "jihad" in discussions about terrorism drew criticism during last Thursday's House Homeland Security Committee hearing on the Boston Marathon bombings.
The bombings "should again teach us that the enemy we face is violent Islamist extremism, not just al Qaida," said former U.S. Sen. Joe Lieberman. "Osama bin Laden is dead. And the remaining leadership of al Qaida is on the run, but the ideology of violent Islamist extremism is rapidly spreading."
The Boston investigation already has shown that Tamerlan and Dzhokhar Tsarnaev "adopted the outrageously false narrative of violent Islamist extremism, that Islam and America are involved in a struggle to the death with each other," Lieberman said.
It has been more than five years since the Department of Homeland Security, under the Bush administration, issued a directive about "the difficult terrain of terminology" as recommended by unidentified academics and Muslim American activists. "Jihadist" and "Islamist terrorist" were identified as terms to be avoided. Jihad "glamorizes terrorism, imbues terrorists with religious authority they do not have, and damages relations with Muslims around the globe," the memo said.
By identifying them as mere extremists or criminals, they lose some of the luster that attracts recruits, the argument goes.
Is it working? How can you tell?
Anecdotally, this strategy did nothing to dissuade the Tsarnaevs, or any of the otherhomegrown terrorist plotters in recent years. The policy's effectiveness is difficult, if not impossible, to quantify. But skeptics, such as Monterey Terrorism Research and Education Program Director Jeffrey M. Bale, say the language policy is illogical.
"Why, after all, would Muslims look to non-Muslims to interpret their religion for them, or for guidance about how to identify and label Islamists?" Bale said in response to an email from the Investigative Project on Terrorism. "Indeed, if we call jihadists 'criminals,' it may actually have the counterproductive effect of garnering more sympathy for them given the levels of anti-U.S. and anti-Western hostility throughout the Muslim world."
Jihadists routinely make it plain that – while religion may not be the sole factor driving them to violence – their Islamic beliefs and identities dominate their thinking. "We in the West just don't seem to want to believe what they constantly say," Bale wrote. (Read his full response here.)
Read more at IPT