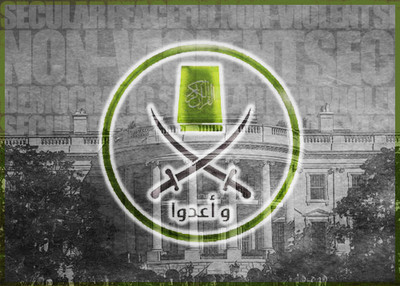 Newly released records confirm a 2012 Investigative Project on Terrorism (IPT) report that the State Department cleared the way for a visiting delegation of Muslim Brotherhood officials to enter the country without undergoing routine inspection by U.S. Customs and Border Protection agents.
The April 2012 visit came before the Muslim Brotherhood's candidate was elected Egypt's president, although the Brotherhood's Freedom and Justice Party (FJP) had won a plurality of seats in parliamentary elections. The expedited entry is known as a "port courtesy" normally reserved for high-ranking visiting government officials and dignitaries.
The records, marked "sensitive but unclassified," were obtained through a Freedom of Information Act request. They offer few details. The State Department released a one-page document labeled "Compiled References to MB Delegation Arrival and Departure" containing four separate communications between March 30 and April 16, 2012 about the Brotherhood delegation. It is not clear who wrote them or who received them.
"In the coming days, we're going to write down a list of procedures for dealing with MB visits to the United States," an April 16, 2012 entry says.
A March 30 communication offers help dealing with "FJP Delegation and POE [port of entry] Courtesies: Please let the desk know over the weekend if you'd like our help submitting to DHS the 'Special Alerts,' which are used to request that travelers not be pulled into secondary [inspection] upon arrival at a point of entry."
But one member of the Brotherhood delegation, which met with U.S. academic and senior government officials, had been linked to a child pornography investigation in the United States years earlier. Under normal circumstances, he likely would have been subjected to extra scrutiny.
The records released do not address that issue. They do, however, report that "The MB/FJP delegation's scheduler reported that their arrival at JFK on Saturday went very smoothly."
And the official in question, Abdul Mawgoud Dardery, traveled separately and was escorted through security checks in Minneapolis and New York's John F. Kennedy Airport "In response to a request from the MB … We did not hear anything further from the MB so we assume to departure went smoothly," the records show.
In addition, the Muslim Brotherhood has open connections with Hamas, the Palestinian terrorist group which was created to be the Brotherhood's Palestinian jihadist wing. That fact would have made a secondary inspection for the delegation a natural, if not for the State Department's instructions.
A U.S. official familiar with immigration procedures told the IPT in 2012 that the exemption for the Brotherhood delegation was "extraordinary."
Also see