by Paul Alster: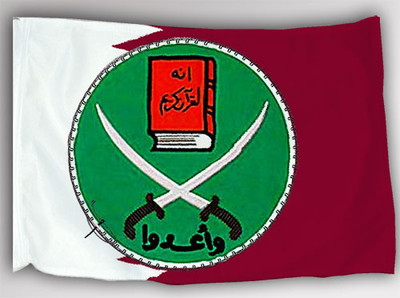 Haifa, Israel - With seemingly limitless wealth and a penchant for often supporting both sides of the argument, the State of Qatar has become a highly significant player in Middle East power-politics. Recent events in Egypt and Syria, however, have put the brakes on Qatar's ambitions. In this second part of his analysis of its attempt to influence regional politics, Paul Alster considers how much its flamboyant foreign policy, centered on furthering the interests of the Muslim Brotherhood, might be coming back to haunt Qatar.
July 3 was not a good day for Mohammed Morsi. The Muslim Brotherhood's man was ousted from power after just a year as Egypt's president, having lost the essential confidence of the country's powerful military leaders. July 3 was also a black day for the State of Qatar, the country which had nailed its colors and its money firmly to the Muslim Brotherhood mast, and which suddenly found itself the target of outrage on the Egyptian street and beyond.
Morsi came to power in a democratic election, but misinterpreted the meaning of democracy. He and his Muslim Brotherhood backers – primarily Qatar – appeared to believe that having won the election, they could run the country according to their decree, not according to democratic principles as the majority had expected. A series of draconian laws, a spiralling economic crisis, and a feeling on the Egyptian street that the Muslim Brotherhood was paid handsomely by foreign forces, spurred street protests of historic proportions, prompting the military to intervene.
With Morsi gone, Qatar suddenly became "persona non grata" in Egypt.
Qatar sought to extend its influence and Muslim Brotherhood-inspired view of how countries like Egypt, Syria, Libya, and others should be. Qatar was also playing a power-game against Saudi Arabia, another hugely wealthy regional power whose vision of an even more strictly Islamist way of life for Muslims drove a wedge between the two parties.
Another seismic change hit the region just nine days before Morsi's fall. The Emir of Qatar, Sheikh Hamad bin Khalifa al Thani – in power since overthrowing his own father back in 1995 – voluntarily abdicated in favor of his 33-year-old son, Sheikh Tamim.
Tamim, educated in England and a graduate of the prestigious Sandhurst Military Academy, became the region's youngest leader, with the eyes of the world watching to see if he would maintain his father's aggressive policy of extending Qatar's regional influence. Few could have imagined that he would very quickly find himself at the center of a major political crisis as Egypt – a country in which Qatar had so much credibility and money invested – imploded before his eyes.
Within hours of Morsi's departure, the streets of Cairo were awash with anti-Qatari banners accompanied by the obligatory anti-US and anti-Israel slogans. Al Jazeera – a staunch promoter of the Muslim Brotherhood view in Egypt – was vilified, its reporters attacked on the streets, its offices ransacked. Al Jazeera also had been hit seven months earlier after supporting Mohammed Morsi's crackdown on young Egyptian demonstrators opposed to the rapid Islamisation of Egypt under the new government.
Read more at  IPT