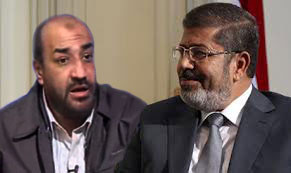 by Raymond Ibrahim
American Middle East analysts often claim that Egypt's Muslim Brotherhood is a moderate organization, nothing like the more radical Salafis. If true, what do we make of the fact that the most intolerant, anti-American, hate-filled Salafis and jihadis also happen to be the greatest and staunchest supporters of Morsi? Doesn't such unequivocal support indicate shared ideologies and goals?
Consider: A few weeks ago, while discussing the ongoing protests against Egypt's President Muhammad Morsi—himself a leader of the Brotherhood—Sheikh Abdullah Badr, an Al Azhar trained scholar and professor of Islamic exegesis, made the following assertion on live TV:
I swear to Allah, the day those who went out [to protest], and at their head, the [Coptic] Christians—I say this at the top of my voice—the day they think to come near Dr. Morsi, I—we—will pop their eyes out, and the eyes of all those who support them, even America; and America will burn, and all its inhabitants. Be assured, the day Dr. Morsi is touched by any hand whichever, and connected to whomever, by Allah it will be the last day for us. We will neither leave them, nor show them any mercy.
Badr's "radicalism" is well documented. On various occasions he has openly declared on live TV that he hates and is disgusted by Christians, that he will "cut the tongue" of anyone who offends Islam (adding "Let the whole world burn, but Islam not be mocked"), and that those Egyptians protesting against Morsi are "mischief makers" who should be "hung on trees" (a distinct allusion to Islamic crucifixion as prescribed in Koran 5:33). Interestingly, he was recently arrested again, but not for the aforementioned hate-mongering and incitements to kill those against Morsi, but rather for insulting an Egyptian actress on live TV, calling her among other things, a "whore."
At any rate, under Hosni Mubarak, Badr and other intolerant Islamic supremacists were imprisoned. Under Muhammad Morsi, Badr—as well as numerous jihadis who were on death-row for their acts of terror—have been freed.
This, too, speaks volumes concerning the behind-the-scenes relationship between the Brotherhood and jihadis.
Read more at IPT