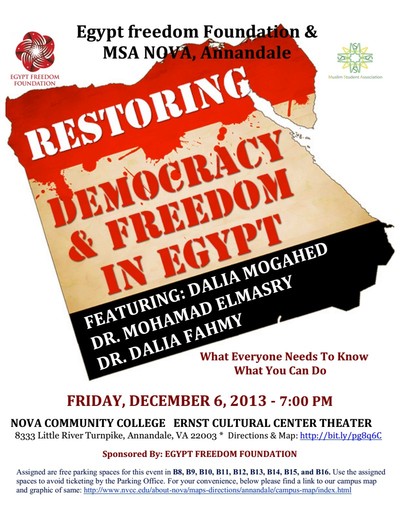 A new group advocating for the restoration of Muslim Brotherhood power in Egypt held a briefing on Capitol Hill Thursday. It is part of a series of events calling for "restoring democracy to Egypt."
But like similar efforts before it, the push by the newly-established Egypt Freedom Foundation involves people with ties to Muslim Brotherhood organizations in the United States. And, the Investigative Project on Terrorism has learned that the event also attracted Sami Al-Arian to the Cannon Office Building on Capitol Hill. Al-Arian is a convicted terrorist-supporting felon who is still under a separate indictment for criminal contempt. Both cases involve his work with the Palestinian Islamic Jihad, a terrorist group for which Al-Arian served as a board member.
He did not speak during Thursday's briefing, or at a follow-up event at a northern Virginia community college Friday night. But his presence, and his connections to the organizers, indicate that he may be more than a spectator.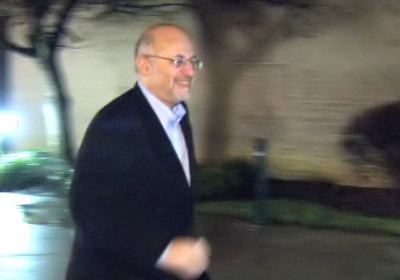 Sami Al-Arian arrives for an Egypt Freedom Foundation program in Annandale, Va., Friday night. He attended a similar Capitol Hill briefing Thursday.
The two events featured speakers critical of the Egyptian military for removing President Mohamed Morsi from office July 3, after days of massive street protests that reached historic proportions against his year-old rule. Morsi was the Muslim Brotherhood's candidate in Egypt's 2012 elections.
The speakers at Thursday and Friday's events rejected estimates that 30 million people – from Egypt's population of 80 million – took to the streets calling on Morsi to resign. And they claim that, while Morsi and the Muslim Brotherhood made some mistakes in power, they remained reasonably popular but were done in by a campaign of gross media exaggeration and fabricated conspiracies.
Both events were sponsored by the Egypt Freedom Foundation, a new group incorporated in Washington, D.C. on Oct. 1, records show. The only listed officer, Ahmed Bedier, is a former Council on American-Islamic Relations (CAIR) chapter director who still raises money for the group.
CAIR was created in 1994 as part of a Muslim Brotherhood network of Hamas-support organizations, court records show. Hamas is a Palestinian offshoot of the Muslim Brotherhood.
Al-Arian also has acknowledged his past membership in the Muslim Brotherhood.
His contempt case has been frozen since 2009. Despite a written promise, U.S. District Judge Leonie Brinkema has not ruled on pending motions to dismiss the case or let it proceed to trial. Al-Arian has been on house arrest, but in January, Brinkema issued an unsolicited order which greatly reduced restrictions on Al-Arian's activities.
If the case were allowed to go forward, Al-Arian would face prison time if convicted. If he were acquitted, or if the contempt case were dismissed, he would face deportation under terms of his 2006 plea agreement for supporting the Palestinian Islamic Jihad.
"The evidence was clear in this case that you were a leader of the Palestinian Islamic Jihad," U.S. District Court Judge James Moody said during Al-Arian's sentencing. "You were on the board of directors and an officer, the secretary. Directors control the actions of an organization, even the PIJ; and you were an active leader."
The Capitol Hill event was promoted on Twitter and attended by Mahdi Bray, former head of the Muslim American Society's political arm. The Muslim American Society has strong roots in the Muslim Brotherhood.
Like Al-Arian, Bray is a convicted felon. Bedier and Bray staunchly defended Al-Arian during his run-ins with the criminal justice system. Bedier testified as a character witness for Al-Arian. Bedier, as the CAIR representative in Tampa, where Al-Arian was tried in 2005, routinely appeared in the media defending him.