by Soeren Kern:
Austria is also in the process of introducing new taxpayer-funded textbooks for the formal teaching if Islam in all public elementary schools across the country…. This is the first time Islam is being taught to Austrian students in the German language.

"What remains, then, is to conquer Rome. This means Islam will come back to Europe for a third time, after it was expelled from it twice. We will conquer Europe! We will conquer America! Not through the sword but through our Dawa [proselytizing]." — Yusuf al-Qaradawi, Muslim Brotherhood
Muslim students, according to new statistics, now outnumber Roman Catholic students at middle and secondary schools in Vienna, the capital and largest city of Austria.
The data—which show that Muslim students are also on the verge of overtaking Catholics in Viennese elementary schools—reflect an established trend and provide empirical evidence of a massive demographic and religious shift underway in Austria, traditionally a Roman Catholic country.
The Muslim population in Austria now exceeds 500,000 (or roughly 6% of the total population), up from an estimated 150,000 (or 2%) in 1990. The Muslim population is expected to reach 800,000 (or 9.5%) by 2030, according to recent estimates.
In the current school year, 10,734 Muslim students are enrolled in Viennese middle and secondary schools, compared to 8,632 Roman Catholic students, 4,259 Serbian Orthodox students and 3,219 students with "no religious persuasion," according to statistics compiled by the Vienna Board of Education (Stadtschulrat für Wien) and published by Radio Vatican website on March 21.
As far as elementary schools are concerned, there are 23,807 Roman Catholic students, followed by 17,913 Muslim students, 11,119 "non-religious" students, 6,083 Serbian Orthodox students and 2,322 Protestants.
The statistics show that the only Viennese schools where Muslims remain a distinct minority are in thegymnasium, advanced secondary schools that place a strong emphasis on academic learning rather than on vocational skills. Students graduating from a gymnasium are more likely than others to be admitted to attend university in Austria.
Austria is also in the process of introducing new taxpayer-funded textbooks for the formal teaching of Islam in all public elementary schools across the country.
The textbooks are called "Islam Hour" (Islamstunde) and have been prepared by the Islamic Religious Authority of Austria (Islamische Glaubensgemeinschaft in Österreich, IGGiÖ), a Muslim umbrella organization whose main responsibility is the state-funded supply of Islamic religious education at Austrian public and private schools.
According to the IGGiÖ, the new textbooks are based on "secure and recognized sources of Islam" aimed at "embedding Islam into the lives of students." Unlike previous versions of the books, which were criticized for being "overly martial in tone" and for not being "sufficiently oriented toward European values," the new books have been developed based a "completely new didactic model for competency-based education."
Previously, the main textbook used for Islam instruction in Austrian public schools was a vehemently anti-Western screed entitled "The Lawful and the Prohibited in Islam" (Erlaubtes und Verbotenes im Islam) and authored by none other than Yusuf al-Qaradawi, the spiritual leader of the Muslim Brotherhood.
Among other Islamic doctrines, the book taught students that Islamic Sharia law takes precedence over secular laws, that women have fewer rights than men, and that those who abandoned Islam are to be put to death.
The book was eventually banned from Austrian schools (although it is still being openly promoted on the website of the Vienna Islamic Centre, the largest mosque in Austria) after Al-Qaradawi[1] — a spiritual advisor for the Palestinian terrorist group Hamas — began publicly endorsing suicide attacks against Jews as "martyrdom in the name of Allah."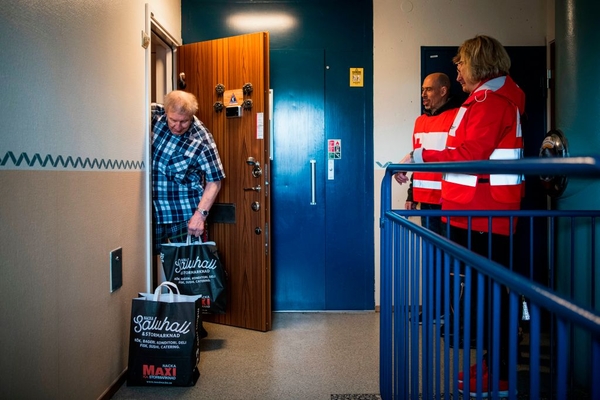 The Vienna Islamic Centre.
The new textbooks come in four volumes along with a companion CD that includes not only recitations of the Koran, but also a rap song which deals with the aspects of Ramadan.
In an interview with the Austrian newspaper Heute, an IGGiÖ project manager named Amena Shakir said the aim of the new textbooks is to "learn about how the Koranic suras [chapters] can be applied to everyday life." Shakir added that this is the first time Islam is being taught to Austrian students in the German language and that the textbooks contextualize Islam in the Austrian countryside rather than in Arabia.
"We want our young people in Austria have a sense of home," said the president of IGGiÖ, Fuat Sanac. "We have tried for years to bring these books into being."
Sanac also called on the Austrian government to approve and promulgate a new "Islam Law" that would provide Muslims with more legal rights and protections than they enjoy in the current law, which dates back to 1912.
The original law was adopted to help integrate Muslim soldiers from Bosnia-Herzegovina into the Austro-Hungarian army of the Habsburg monarchy. The law recognized Islam as a religious community in Austria, and allowed Muslims to practice their religion in accordance with the laws of the state.
Read more at Gatestone Institute