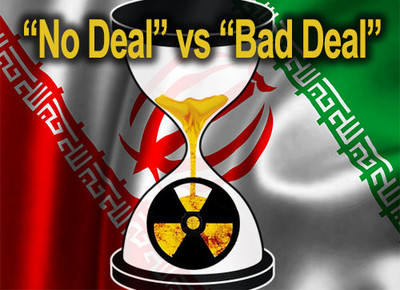 The international community and Iran meet again in Geneva this week for a fateful round of talks.
The discussions are meant to ensure that Iran ceases activities designed to produce the first Shi'ite nuclear bomb – the first of many bombs, if Iran's program isn't stopped.
The negotiations aim for a modest initial agreement in hopes of turning that into a final arrangement. But they already sparked a fierce public rift between the government of Israel and the Obama administration, the likes of which have not been seen in U.S.-Israeli relations in many years.
Fueling the disagreement are deep concerns in Jerusalem – and other capitals in the Middle East, as well as in Paris – that the Obama administration is willing to settle for a shortsighted, poor interim deal that will cause existing, crippling sanctions to crumble. That would enable Iran to stay on the brink of nuclear weapons production, and enable President Obama to defer the crisis to the next administration.
During talks earlier this month in Geneva, Israeli officials were stunned to learn of the deal to which the Obama administration apparently agreed, a deal that was not signed due to France's rejection of the terms.
It called for a cessation of 20 percent enriched uranium production, but allowed for the continued production of 3.5 percent uranium, and most disturbingly to Israel, left every one of Iran's centrifuges in place.
By leaving the centrifuges in place, this arrangement ensures that Iran can quickly create the amount of uranium needed for a bomb at any time. And by leaving the current stockpile of low-enriched uranium in place, such a deal means that Iran can convert this material to military-grade material at will, through a process that is relatively quick and technically easy.
The draft agreement also failed to address the heavy water reactor in Arak. In exchange, suggested rewards to Iran included the unfreezing of $3 billion of frozen fuel funds, an easing of sanctions on the petrochemical and gold sectors, an easing of sanctions on replacement parts for planes, and a loosening of restrictions on the Iranian car industry.
The U.S.-led attempt to reach an interim deal with Iran is not necessarily a bad thing in itself if it actually stops Iranian nuclear activities for the duration of further talks.
But the arrangement floated in Geneva would not have stopped Iran's enrichment activities. Instead, it would have lifted four different sets of sanctions and served as a green light for European and Chinese companies, hungry for business with Iran, to flood the Iranian market. That would lead to a collapse of the remaining sanctions.
In Israel's eyes, this interim deal would have been a mistake of historic proportions, causing irreversible damage to prospects for an acceptable final deal. It would have been a victory for Iran's skilled negotiators, and saved the Islamic Republic from having to seriously consider making concessions.
It is sanctions that drove Iran to the brink of economic collapse and forced the regime to the negotiations table.
If this vital pressure lever collapses now – before Iran has taken a single meaningful step back from the nuclear brink – a military strike will remain as the only measure standing between Tehran and the bomb.
According to Israeli assessments, Iran would be able to build an atomic bomb less than six months after Supreme Leader Ayatollah Khamenei gives the order.
Read more at IPT