November 18, 2014
The recent spike in Palestinian terrorist attacks targeting Israelis throughout the country occur amid growing incitement to violence and glorification of terrorism emanating from Palestinian Authority and Fatah officials and institutions. Tuesday's heinous attack on a Jerusalem synagogue was the "direct result" of that campaign, said Israeli Prime Minister Benjamin Netanyahu.
Within hours, Palestinian social media featured images glorifying the bloody slaughter of Jews while they worshipped.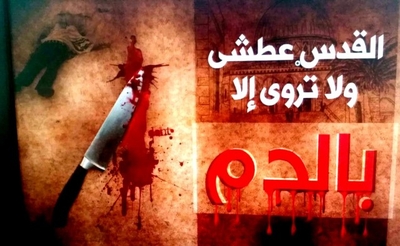 "Jerusalem is thirsty, and this thirst will be quenched with blood."
What follows is a list of recent attacks and examples of the incitement and glorification prominent in Palestinian social media outlets.
Most of the violence has centered in Jerusalem, as Palestinians continue to engage in rock throwing, Molotov cocktail attacks, and rioting in the capital and surrounding neighborhoods. The following section outlines major Palestinian terrorist attacks targeting Israelis in recent weeks.
November 18, 2014: Two Palestinian terrorists stormed a Jerusalem synagogue armed with a meat cleaver and a gun during morning prayer, killing four Israeli rabbis and seriously injuring at least eight other worshippers. Three victims, Moshe Twersky, Aryeh Kupinsky, andKalman Levine were dual American-Israeli citizens, and one, Avraham Goldberg, was a British-Israeli national, according to Israeli police.
November 10, 2014: The IDF discovered an explosive device north of Jerusalem in the West Bank, between the Jewish communities of Psagot and Beit El.
November 10, 2014: Palestinian terrorists stab Israelis in separate incidents, killing a young woman and a soldier. In the first incident, a Palestinian man stabbed an Israeli soldier, Almog Shilony, in Tel Avivwho later succumbed to his injuries. Police arrested the suspect, 18 year-old Nur al-Din Abu Khashiyeh, from Nablus, who was staying in Israel illegally. Hours later, another Palestinian terrorist attacked Israelis with a knife, killing a young woman, Dalia Lemkus, after stabbing her in the neck and injuring two others at a bus stop in the West Bank community of Alon Shvut. Hamas identified the Alon Shvut attacker as Maher Hamdi al-Ashalmoun from Hebron, who was released previously as a security prisoner. The Palestinian Islamic Jihad terrorist organization later claimed responsibility for the attack.
November 10, 2014: An Arab-Israeli mob attacked a car with rocks in the town of Taibe and set it on fire. An Arab-Israeli, Majdi Baloum, rescued the victim by pulling him out of his car.
November 6, 2014: Bullets struck an Israeli police cruiser driving north of Ramallah. There were no reported injures and security personnel searched for the shooter.
November 5, 2014: A Palestinian terrorist rammed his car into a crowd of Israeli pedestrians in Jerusalem killing a Border Police officer, Jidan Assad, and injuring 14 other people. A 17-year-old student later died of his injuries. The terrorist, Ibrahim al-Acri, a Hamas operative, then crashed into another group of pedestrians and got out of his car and tried to attack more civilians with a metal bar. Hamas claimed responsibility for the attack, referring to al-Acri as a "martyr" who conducted "a heroic operation."
November 5, 2014: A Palestinian driver crashed into a group of IDF soldiers in the West Bank hours after a separate deadly vehicular attack in Jerusalem. One of the soldiers was wounded critically.
October 29, 2014: A Palestinian man shot American-Israeli Rabbi Yehuda Glick in front of Jerusalem's Menachem Begin Heritage Center. The suspect was killed the following morning after Israeli counter-terrorism forces surrounded his house and were fired upon. Israeli police discovered evidence that the suspected terrorist was involved in the Glick shooting.
October 22, 2014: A suspected Hamas member crashed his car into a crowd of Israelis exiting the light rail station in Jerusalem, killing a three month-old American-Israeli girl, Chaya Zissel Braun, a woman from Ecuador, Karen Jemima Mosquera, and injuring eight others.
Attempts to goad Palestinians into a new intifada quickly evolved from the more routine mayhem (Molotov cocktails and rock throwing) to a more aggressive approach recently termed 'car intifada' (quotes and photos). Art posted on Twitter urges more attacks be carried out. Among the examples: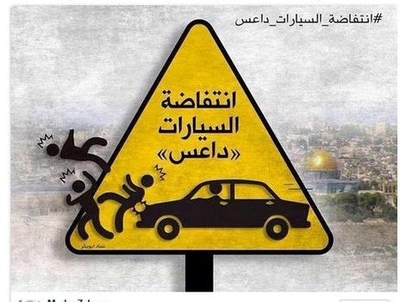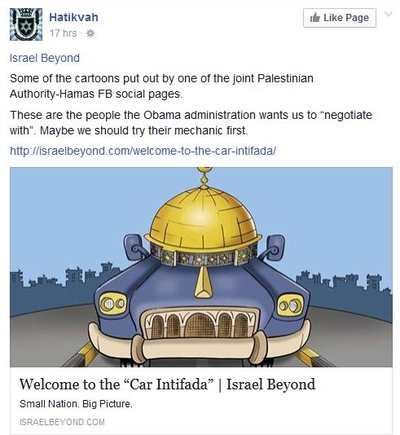 The 'car intifada' recently has been amended to include a 'Knife Intifada,' as first reported by Khaled Abu Toameh. Several car attacks have been followed up by stabbings. It is thought that the stabbing in Alon Shvut was meant to be a car attack but was thwarted by a preventative cement barrier.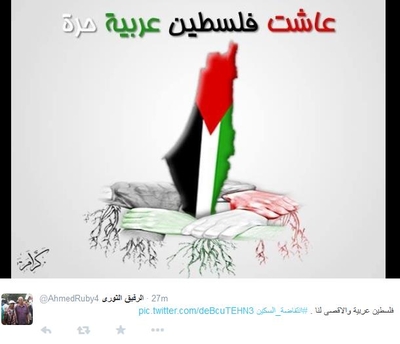 Some of the Twitter posts have edifying art work.
"Stab!"
"Arise and Resist"
The idea for knife intifada may have been inspired by Hamas: "Even he who owns nothing but his faith has a kitchen in his house in which he has a knife," Fathi Hamad, a leader of Hamas, said in a Nov. 5 television interview. "He must grab his knife and confront the Zionist enemy."
Recent Examples of Palestinian Authority/Fatah Incitement to Violence
In light of increasing terrorist attacks, Netanyahu has repeatedly accused the PA and Hamas of inciting violence against Israeli citizens. The following section outlines key examples of Palestinian Authority and Fatah sanctioned incitement to violence and glorification of terrorism in recent weeks:
After the shooting of Rabbi Yehuda Glick, Abbas sent a condolence letter to the family of terrorist Mutaz Hijazi who was killed by Israeli authorities in a firefight during a raid for his capture. In the letter, Abbas called the terrorist a "Shahid," a martyr who "rose to Heaven while defending our people's rights and holy places," according to PMW.
A senior Fatah official claimed responsibility for the attempted assassination. Adnan Ghaith, director of the Fatah branch in Jerusalem, admitted that the terrorist was a Fatah operative and was proud of his actions, according to an exclusive interview to the Quds [News] Network translated by PMW.
"The Martyr (Shahid) Mutaz Hijazi, who carried out the assassination attempt, was a member of Fatah and one of its activities in [Jerusalem]. Since his release from the occupation prisons in 2012 [until his death], he participated in all the [Fatah] movement's events, and was active in it," Ghaith said. "We in Fatah are not ashamed to take responsibility for the heroic act he carried out today, for it was a natural reaction to the occupation's crimes against Jerusalem and its holy places."
Abbas adviser and Fatah Central Committee member, Sultan Abu Al-Einein, also praised the terrorist on his Facebook page. "Your bullets were a beacon [on] a path that had become dark, the light of which will continue to shine for years to come," Sultan wrote on November 3. Al-Einein also praised the terrorist who killed three-month-old American Israeli Haya Zissel-Brown and injured eight others following the terrorist attack. Al-Einein, Abbas' adviser, referred to the terrorist as a "heroic Martyr" on his official Facebook page, PMW reported.
Abbas' Fatah movement also praised the terrorist by posting an obituary on its official Facebook page, also referring to the killer as a "heroic Martyr" and portraying his death as "his wedding." The "wedding" reference relates to the Islamic belief that Martyrs for Allah are married to 72 virgins in the afterlife. Mahmoud Al-Aloul, a member of Fatah Central Committee, also re-posted the glorification on his personal Facebook account. Al-Einein's past glorification of terrorists led five U.S. Congress members to demand that Abbas fire his adviser and condemn this sentiment, to no avail.
Fatah's official Facebook page explicitly encourages Palestinians to conduct similar vehicular attacks on Israelis. On November 6, Fatah's main page featured a cartoon referring to "the run over organization" (a play on words for the Arabic word for "run over" – da'es and the Arabic acronym for the Islamic State terrorist group based in Iraq and Syria –Da'esh), according to the PMW. The cartoon urges Palestinians to "Hit the gas at 199 [km/h] for Al-Aqsa." Fatah advocated for the "run over" term to proliferate into a new popular hashtag (#Da'es) on social media, in an effort for the phrase to be adopted by social media users and the terrorist action carried out. Another official Fatah post calls for Palestinians to "Run over, friend, run over the foreign settler!", referring to any Israeli citizen.
Palestinian Authority TV broadcasted a video of Mahmoud Abbas' calling for Palestinian to prevent Jews from going to the Temple Mount compound "in any way," according to PMW. The video was shown 19 times in three days, playing a clip of Abbas' October 17 speech, which implicitly calls for Palestinians to use violence against Israelis.
In the same week, a terrorist killed a three-month old American-Israeli girl and a young Ecuadorian woman while hundreds of Palestinians participated in violent riots.
Click here to view the PA video clip. By incorporating phrases such as "in any way" and "using all means," the PA is explicitly calling for violence and terrorism.
The incitement has been so blatant that it elicited a response from the Simon Wiesenthal Center, which called on President Obama, Secretary of State John Kerry, and other political and religious leaders to condemn Abbas' incitement against Jews visiting their own holy places.
The National Security Forces of the Palestinian Authority posted a cartoon depicting an Israeli soldier about to rape the Al-Aqsa Mosque, portrayed as a female in prison, according to PMW. The cartoon woman is crying in a jail cell as the Israeli soldier is preparing to remove his pants outside the cell. The soldier is depicted as saying: "Come on, sweetheart." The text of the cartoon reads: "Daily cartoon: Al-Aqsa is being raped."
Two cartoons printed in Abbas' official Palestinian Authority daily, Al-Hayah Al-Jadida, entice Palestinians to strike Israelis with stones, according to PMW. One cartoon depicts a father and son at the entrance to the Dome of the Rock as the father gives his son a slingshot as the text reads: "Purification before Prayer is performed with stones."
On October 30, Fatah officially declared the next day to be a "Day of Rage," calling on Palestinian "fighters" to engage Israelis in Jerusalem, according an official PA news agency report, WAFA, translated by Palestinian Media Watch.
Palestinian and Israeli Arab Incitement
Palestinian social media routinely features graphic and violent tweets calling on Palestinians to run over and kidnap Jews.
Palestinian social media users directly refer to a "Car-Intifada" in Arabic as a trending topic and the "run over" (Da'es in Arabic described above) hashtag is increasingly popular and widespread.
Palestinian singers released a song encouraging hit and run terrorist attacks, explicitly glorifying the murder of the American-Israeli baby on November 6. "Run over the two month old baby – that is how we get them," and "For Al-Aqsa we will run over settlers" are two of the shocking lyrics in the song written by Anas Garadat and Abu Khayad that is gaining traction in Palestinian social media.
The head of the Islamic Movement in Israel, Sheik Raed Salah, called for Jerusalem to be "the capital of the global Caliphate" during a Friday sermon, according to a Middle East Media Research Institute (MEMRI) report.
"Inshallah, Jerusalem will soon become the capital of the global Caliphate. The Caliphate will spread justice throughout the land, after it was filled with injustice by America, the Zionist enterprise…," Salah said during his speech in Nazareth.
A new Israeli Arab movement, Kifah ("struggle") held its founding conference on November 1. It calls for a Pan-Arab Palestinian organization that supports "resistance" calls for the descendants of Palestinian refugees to return to Israel, and advocates for the "homeland's liberation," according to MEMRI.
A gruesome poster depicting a dead Israeli and a bloody knife featuring the text "Jerusalem is thirsty, and this thirst will be quenched with blood", is circulating on Palestinian social media.
Hamas
After terrorists carried out a massacre in a Jerusalem synagogue on November 18, Hamas spokesman Sami Abu Zuhri praised the attack on Facebook, referring to it as a natural reaction to the "occupation" and called for more similar attacks against Israelis. Another Hamas spokesman, Mushir al-Masri, posted a photo of the terrorists, calling them heroes and the terrorist attack a "heroic action."
The Hamas affiliated Shehab News Agency published this graphic photo encouraging similar terrorist attacks against Jews.
In calling for further attacks, Al-Masri posted a graphic cartoon depicting the brutal terrorist attack in the synagogue showing Jews piled up after being stabbed by Palestinians while other Jews flee in panic.
After claiming responsibility for the November 5 car attack, Hamas called for more terrorist attacks against Israelis. "We call on the people of Jerusalem and the West Bank and all of the Palestinians to carry out more of these activities with full force in order to defend al-Aksa," according to a Hamas' statement released November 5.
PalInfo, considered an unofficial site for Hamas,[1] published an assassination 'hit list' on Twitter naming several Israeli cabinet members, including their photos and details.
Following the murder of the three-month old American-Israeli girl on October 22, an official Hamas statement refers to the infant as a "female settler," and urges Palestinians to escalate the confrontations' against Israel in various locations, according to an Investigative Project on Terrorism (IPT) translation.
In light of Israel's response to the attacks and mounting tension over the Temple Mount, the Palestinian Authority has called on the United Nations to "adopt a position to call on the Israeli government to stop all these activities and policies of provocation and incitement."
As the recent spike in Palestinian terrorist attacks shows – Tuesday's slaughter being just the latest example – the lethal impact from provocation and incitement is being felt most heavily among Israeli civilians.