by Raymond Ibrahim:
"I abducted your girls. I will sell them on the market, by Allah… There is a market for selling humans. Allah says I should sell." — Abubakar Shekau, leader of Boko Haram.

Hillary Clinton repeatedly refused to designate Boko Haram a terrorist organization.

In Malaysia — regularly portrayed in the West as a moderate Muslim nation — any attempt to promote religions other than Islam is illegal.

"The reason they want to kill me is very clear — it is because of being a convert to Christianity." — Hassan Muwanguzi, Uganda.
From one end of the Islamic world to the other, the abduction and rape of Christian girls at the hands of Muslims—both terrorists and laymen—was a dominant theme in April.
On Easter Sunday morning, for instance, four Muslim men raped a 7-year-old Christian girl named Sara in a Pakistani village. Last reported, the child was in an intensive care unit in "critical" condition. According to Asia News, "the police, instead of arresting the culprits, helped the local clan to kidnap the girl's father; Iqbal Masih was taken and hidden in a secret place to 'force the family not to report the story, to reach an agreement with the criminals and to avoid a dispute of a religious background.'"
According to a human rights lawyer involved in the case, "Such cases are frequent: abuse against women and girls by Muslim men are examples of how the minorities in Pakistan live under constant fear of persecution. We believe that many cases of violence go unreported." A new report appearing in April by the Solidarity and Peace Movement—a coalition of NGOs, associations and institutions including the "Justice and Peace" Commission of the Pakistani Bishops—confirmed that "an estimated 700 cases per year involve Christian women, 300 Hindu girls…[T]he true extent of the problem is probably much bigger, since many cases are not reported." (Click here for a better understanding of the extent of this tragedy.)
The biggest story, however, came from Nigeria, where the Islamic terrorist organization known as Boko Haram abducted nearly 300 teenage schoolgirls, mostly Christians. The group justified its actions in Islamic terms. Its leader, Abubakar Shekau, declared on video, "I abducted your girls. I will sell them on the market, by Allah. …There is a market for selling humans. Allah says I should sell."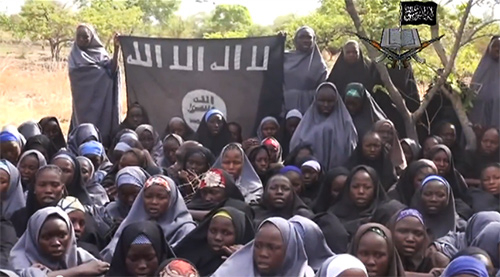 Some of the Nigerian schoolgirls who were abducted by Boko Haram. (Image source: Boko Haram video)
The so-called mainstream media, which generally downplays or ignores Boko Haram's terror campaign, actually reported on this particular atrocity, prompting Western authorities—who are much more accustomed to, and comfortable with, pretending these sorts of things do not exist—to respond in awkward, hypocritical and bewildering ways.
Secretary of State John Kerry, after saying the U.S. had been in touch with Nigeria "from day one" of the crisis, then asserted, "I think now the complications that have arisen have convinced everybody that there needs to be a greater effort. And it will begin immediately. I mean, literally, immediately."
Read more at Gatestone Institute