by Paul Alster:
In the first of a two-part assessment of its growing role on the world stage and dubious influence on Middle East and Arab politics, Paul Alster looks at Qatar's carefully crafted image that masks the real direction of this autocratic nation. In part two he concentrates on Qatar's on-the-ground financing of Islamist militias and revolutions in the Arab world.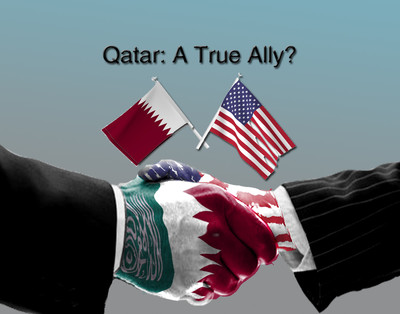 Haifa, Israel - Sometimes the most stunning deceptions occur in broad daylight. It's the classic ruse of the pathological manipulator; the hugely successful benefactors of a myriad of good causes such as disgraced financial moguls Bernie Madoff and Allen Stanford.
The State of Qatar falls into a similar category. The Arabian Gulf island nation has insinuated its way to the top table of world affairs through financial muscle established on rich natural gas and oil reserves. Qatar has befriended and works closely with some of the most powerful nations (including the United States), and has established a series of high-profile charitable foundations and outstanding world-leading brands, while at the same time, it has brazenly sponsored terrorist entities across the Arab world and beyond.
For a tiny country, it has ambitious aims to advance the global Muslim Brotherhood and promote Sunni Islam in its fight against Shia. But that agenda attracts little attention. Qatar has promoted and financed the cause of the Islamist opposition forces that overthrew Muammar Gaddafi in Libya, the Muslim Brotherhood in Egypt, has promoted the now-ruling Ettafdid Movement in Tunisia, the FSA in Syria, and most recently, has supported the rebel forces in Mali.
"I think the U.S. is less aware of this [than it should be]. I mean it's hard to miss! It really has been ignored or shunted aside," Professor Ze'ev Magen, Middle East Studies chairman at Bar Ilan University, told the Investigative Project on Terrorism.
"There is a constant attempt to attribute the breakdown [of the previous Arab status quo] to other factors," Magen said. "But in the end, what you see is the Iraqis, Syrians and the Lebanese Shiites, all lining up together with Iran, and then you've got the Sunni world that is most prominently represented by the Wahabbi Islam of the Gulf States [including Qatar] and the Muslim Brotherhood working together on the Sunni side."
Qatar's generosity in helping Egypt during its current critical financial difficulties will not be without payback, Abdel Rahman Youssef, an Egyptian journalist specializing in political and religious affairs, wrote last month for the Lebanon-based Al Akhbar website, adding that Qatar may have its sights set on acquiring the Suez Canal and the Suez industrial zone currently owned by the Dubai Ports.
Read more at IPT
Also see: