by Samuel Westrop:
If British politicians are serious about putting a stop to the misuse of charity for pro-terror purposes, lawmakers could propose legislation that removes the effective immunity of charitable trusts from liability when their trustees are found to have used funds for terrorist or other unlawful activities.
Two British Cabinet Ministers are "at war" over the growth of Islamist extremism in public institutions, The Timesreported this month.
Michael Gove, the Education Secretary, has blamed the Home Office, according to The Times, for the increasing influence of extremist groups, citing recent attempts by "hardline Islamists" to infiltrate British schools.
A source at the Department for Education stated that the failure to tackle extremism has resulted in schools being targeted by "a group of people who are ideologically Islamist" and "extreme without being violent." Gove, The Times reported, believes that the Home Office displays a "reluctance…to confront extremism unless it develops into terrorism," and that "a robust response is needed to 'drain the swamp'."
Gove has a point. While thousands of hours of Parliamentary debate and countless pieces of new legislation have introduced extraordinary powers for the government, the police and the security services to tackle acts of terrorism, little work has been done either to define "extremism" or curb its influence. Previous attempts to combat extremism have mostly entailed throwing taxpayers' money at self-proclaimed "moderate" groups, some of which were later revealed to be run by Islamist agitators – as Prime Minister David Cameron acknowledged during his 2011 Munich speech.
Although "non-violent" Islamists play a central role in the radicalization of those who later become convicted terrorists, as repeatedly discussed, their influence over sections of the public sector is rarely challenged or even properly scrutinized.
The authorities' attempts to battle terrorism are often framed as a struggle for balance between liberty and security. Similarly, politicians attempting to tackle the spread of extremist ideology understandably need to be mindful of threats to free speech. There is, however, legislation the government could easily introduce to promote accountability and curb extremist activity without compromising freedom of expression or other liberties.
1) Stopping Terror Subsidy
A considerable number of Islamist groups, such as the Egyptian Muslim Brotherhood or Hamas in Gaza, operate a system of da'wah [outreach, proselytizing; literally, a call to God] – providing various social services, such as education, healthcare and welfare payments, which are designed, as Stanford academic Eva Milgrom notes, "to reshape the political consciousness of educated youth."
As counter-terrorism expert Matthew Levitt writes, the social infrastructure produced by da'wah activities "are crucial to Hamas' terrorist activity: they provide cover for raising, laundering, and transferring funds, facilitate the group's propaganda and recruitment efforts, provide employment to its operatives, and serve as a logistical support network for its terrorist operations." [1]
By providing these social services, Islamist groups such as Hamas gain political and moral legitimacy among their constituents, which extends to the terror group's patrons in the West.
Even if British charities do not provide money directly to Hamas's terrorist activities, the contributions are fungible: they enable the release of funds, originally allocated for other services, instead to be used for terrorism. In turn, funding social programs in Gaza serves to legitimize and strengthen Hamas's rule.
The problem is not limited just to terror groups in Gaza – groups which are offshoots of al-Qaeda are also instituting similar da'wah programs. In 2012, for instance, al-Qaeda terrorists in Mali provided various forms of welfare in areas under their control. "[Al Qaeda] and their affiliates, Ansar Dine (Defenders of the Faith) and the Movement for Jihad and Unity in West Africa," The Times reported, "have subsidised state utilities, capped food prices and made welfare payments to the needy."
Similarly, in 2014, reports revealed that British charity workers, praised by leading media outlets, were, in fact, building schools in Syria that bore the flag of the most extreme terror group in Syria and Iraq, the Islamic State of Iraq and al-Sham (ISIS), now tearing through Iraq.
British lawmakers might look to a precedent set by a June 2010 U.S. Supreme Court ruling, in which the court asserted that the U.S. government has the right to "prohibit providing material support in the form of training, expert advice, personnel and services to foreign terrorist groups, even if the supporters meant to promote only the groups' non-violent ends." Elena Kagan, the lawyer who argued the U.S. government's case and now a member of the U.S. Supreme Court, told the court: "Hezbollah builds bombs. Hezbollah also builds homes. What Congress decided was when you help Hezbollah build homes, you are also helping Hezbollah build bombs."
2) Removing the Immunity of Charitable Trusts
A number of commentators have noted how fundamentalists exploit organizations' charitable status to promoteextremism and fund groups with ties to terrorism.
Interpal, for instance, a large British Islamic charity, supported by countless politicians, is, under U.S law, adesignated terrorist organization.
Interpal's trustees openly work with senior leaders of the terrorist group, Hamas, and Interpal officials organize regular "convoys" to Gaza. The convoys, named "Miles of Smiles," support many of the Hamas government's welfare programs mentioned earlier. The convoys are financed by the Union of Good, a coalition of charities that works to obtain the financial support for Hamas's political and terrorist activities.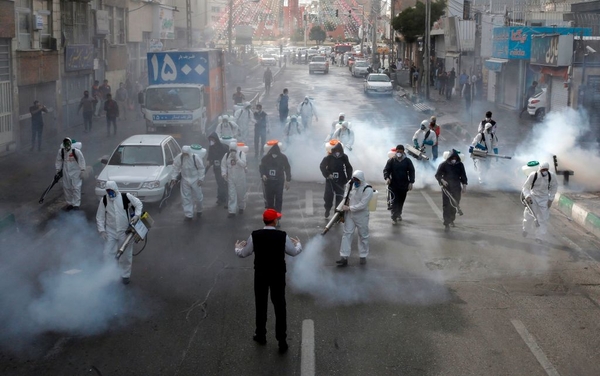 Interpal trustee Essam Yusuf exchanges warm greetings with Hamas terror leader Ismail Haniyeh, in Gaza.
Victims of Hamas terror might well have sued Interpal if were there any actual chance of obtaining redress. It is impossible, however, for individuals to bring claims through the courts against charities such as Interpal because, like many other British charities, it is an unincorporated charitable trust. That is, under English law, it does not exist as a legal entity — it has no legal structure and therefore cannot be sued.
The only people who can face legal charges are a charity's trustees, who are responsible for all actions attributed to the charity. These trustees, however, are not, under British law, actual employees of the charity; moreover, they rarely hold any assets in their own names, so there is little or no prospect of recovering any damages or legal costs.
If British politicians are serious about putting a stop to the misuse of charities for pro-terror purposes, they could propose legislation that removes the effective immunity of charitable trusts from liability when their trustees are found to have used funds for terrorist or other unlawful purposes. This could be achieved through a statutory provision that would provide the courts, once liability was determined, with the option of requiring a charitable trust to underwrite its trustees in order to pay claimants' damages and costs in cases where there is evidence that the trustees were not acting independently of the charity. The trust would not be solely responsible, but would make up the deficit once the trustee's assets had been recovered.
Read more at Gatestone Institute