By Ali Sina:
Who has not heard of taqiyah? But did you know that it is onion shaped? It is an Arabic word and it means dissimulation. Another word used synonymously is kitman, which means concealment.
This concealment has many layers.  The most common form of taqiyah is when Muslims deny that certain Islamic behaviors have anything to do with Islam.
On October 27, the BBC aired a documentary in which Mo Ansar, a Muslim activist in UK, was shown addressing a group of English Defense League members. He wanted to meet them in order to dispel their misunderstandings of Islam and to prove that Islam poses no threat to their country and their way of life.  How could he do that when Islam's goal is to become dominant over all religions and nations? Well, he did it like any Muslim would do. He lied.  (Mo's speech to EDL is at minute 10).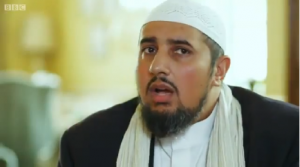 Mo starts by saying "as somebody who was born in this country and is British, I think I uphold British values. I am also a Muslim.  Islam is not here to take over the country. Islam is not here to take over the world. That is not the Islam that I know. Islam that I know is one that believes in co-existence and honors and respects British values."
Nothing can be further from the truth. The British and Islamic values are diametrically opposed. They cannot co-exist. The British values are based on democracy. Democracy implies equality.  Iranian Journalist Amir Taheri says, "Equality is unacceptable in Islam. Un-believers cannot be equal to believers and women are not equal to men. Even the non-Muslims are not deemed to be equal. The People of the Book (Jews and Christians) are accepted as second class citizens and allowed to live in an Islamic state provided they pay the protection tax; Jizyah. But the pagans, atheists and idolaters are not regarded as fully humans. According to the Quran, the idolaters are to be killed wherever they are found." (9:5)
In the April 9, 2002 issue, The Wall Street Journal published the concept of blood money in Saudi Arabia. If a person has been killed or caused to die by another, the latter has to pay blood money or compensation, as follow.
100,000 riyals if the victim is a Muslim man,
50,000 riyals if a Muslim woman,
50,000 riyals if a Christian man,
25,000 riyals if a Christian woman,
6,666 riyals if a Hindu man,
3,333 riyals if a Hindu woman.
According to this hierarchy, a Muslim man's life is worth 33 times that of a Hindu woman. This hierarchy is based on the Islamic definition of human rights and is rooted in the Quran and the Sharia. How can we talk of democracy when the concept of equality in Islam is inexistent?
This is not a quirk of Saudi Arabia. The prophet of Islam advised Muslims not to aid non-Muslims to seek justice if they are abused by a Muslim. In his much celebrated edict of Medina, he declared, "A believer shall not slay a believer for the sake of an unbeliever, nor shall he aid an unbeliever against a believer."  The same document states, "Whoever is convicted of killing a believer… the believers shall be against him as one man, and they are bound to take action against him."
The Quran 3:28 prohibits Muslims to take non-Muslims as their leaders, or even as friends. If Muslims tell the truth about their hostile intention, they will be kicked out from the countries that they intend to overtake. The same verse allows them to lie, "by way of precaution, that ye may guard yourselves from them."
Co-existence? Yes there is co-existence in Islam, but only if the non-Muslims are reduced into dhimmis, and accept to pay tributes to Muslims while feeling themselves humiliated and subdued. (Q. 9:29)
One characteristic of democracy is freedom of belief. This is utterly alien to Islam. The Quran 3: 85 says, "whoso desires another religion than Islam it shall not be accepted of him."  The punishment of apostasy in Islam is death. No Islamic country allows its Muslim citizens to change their religion.
Mo also assured his audience that Islam is not here to take over the world. He lied. People often make the mistake of comparing Islam to Christianity and other faiths. All religions are personal. They are about enlightenment or relationship with God.  Islam is about world domination. The focus of Islam is on expansion. A hadith narrated by Bukhari (4: 53: 386) makes this clear. It says that when Umar sent Muslim army to Persia, "the representative of Khosrau came out with 40,000 warriors, and an interpreter got up saying, "Let one of you talk to me!" Al-Mughira replied, "Ask whatever you wish." The other asked, "Who are you?" Al-Mughira replied, "We are some people from the Arabs; we led a hard, miserable, disastrous life. We used to suck the hides and the date stones from hunger; we used to wear clothes made up of fur of camels and hair of goats, and to worship trees and stones. While we were in this state, the Lord of the Heavens and the Earths, Elevated is His Remembrance and Majestic is His Highness, sent to us from among ourselves a Prophet whose father and mother are known to us. Our Prophet, the Messenger of our Lord, has ordered us to fight you till you worship Allah Alone or give Jizya (i.e. tribute); and our Prophet has informed us that our Lord says:– "Whoever amongst us is killed (i.e. martyred), shall go to Paradise to lead such a luxurious life as he has never seen, and whoever amongst us remain alive, shall become your master."
The order to fight till the non-Muslims worship Allah has not changed. Muslims will not abandon their quest for domination until they succeed or they are defeated. They have no choice in this.  They are programmed to spread Islam through deception or war.  They can't be a Muslim and not advance their religion. The obligation to spread Islam is on every Muslim.  But we e have the choice. We can submit, or fight back and defeat them.  But how can we do that if we are not even aware that we are under attack? Taqiyah is what Muslims do to keep us in the sedated state.
Muhammad said al Islamo deenun va dawlah, (Islam is religion and state).  The goal of Islam is to take over the world and establish a world caliphate.  Without this goal Islam becomes meaningless.  The whole idea of jihad, which is an obligation on every Muslim, is to expand the Islamic domain.  It is also said that the bigger jihad is the struggle against one's self. This is a lie too. Many scholars of Islam have refuted this as an innovation, something that was never said by Muhammad.
Jihad is through war, through financing the war (zakat) and through deception. The disagreement between Muslims is not in whether the west should become Islamic or not, but in whether it should be annexed through qital (fighting) or through taqiyah (deceiving).
The Quran 9:33 says, Allah will cause Islam to prevail over all religions. One does not have to read the history of Islamic conquest and oppression of their vanquished nations throughout the last 1400 years to know Muslims have no regards for the human rights of the non-Muslims. A look at how the minorities are treated in Muslim majority countries in the 21st century can make that point clear.
When Muslims become the majority, they deny the minorities any participation in political life. No non-Muslim is allowed to run for the head of any Islamic country and where they are allowed to become a member of parliament, it is only as a representative of their people. They are like ambassadors of their co-religionists in the Islamic state. They have no role in how the country should be run, but only as a liaison between the state and their co-religionists who are regarded as second class citizens.
Read more at alisina.org
Pamela Geller and Robert Spencer have released a joint statement on their qualified support for Tommy Robinson: