by John Rossomando and Ravi Kumar: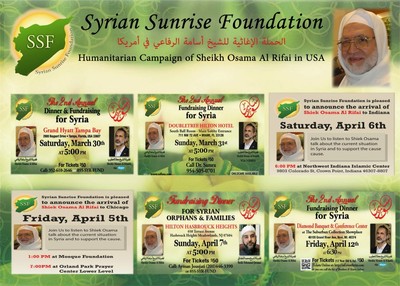 A Syrian Sunni sheik who raised at least $3.6 million during a U.S. fundraising tour last April has blessed a new coalition of Syrian jihadist groups aiming to replace the Assad regime with an Islamic state.
Sheik Osama al-Rifai, who raised the money for the Franklin, Mich.-based Syrian Sunrise Foundation, endorsed the creation of the Islamic Front in a Nov. 22 YouTube video. The front represents a merger of seven jihadist groups fighting Bashar al-Assad's forces. Many of them have ties to al-Qaida.
"The unification of these great Islamist and jihadist groups is not a normal piece of news, but is a great event that brings the happiness and thrill to every Muslim, not only in Syria but in the whole Islamic world," al-Rifai said in remarks translated by the Investigative Project on Terrorism. "I congratulate this brilliant news; I congratulate the brothers who formed it. I cannot say that we bless this group because it is they who should be blessed by them."
Al-Rifai visited mosques and Islamic community centers in cities across America. He spoke at fundraising dinners on Sunrise Foundation's behalf in Tampa, Miami, the Chicago area, Dallas, Crown Point, Ind., Los Angeles, a Detroit suburb called Novi and Meadowlands, N.J.
In Dallas, he said that anyone who works to raise awareness about what is happening in Syria was "a jihadist for Allah."
"Those who are subjecting themselves to martyrdom for the sake of god and who defend themselves and their families, not only them who are performing the jihad, but every single Muslim, Arab, and Syrian who has sympathy toward what happens in Syria," Al-Rifai said. "Every single one of you who give any kind of effort to help his brothers in Syria is a jihadist for Allah, every single one of you who spread the word to raise the awareness among the others about what's happening in Syria is a jihadist for Allah.
"I would love to address my brothers who are in charge of the organizations here like Shaam Relief, and Syrian Sunrise Foundation, you must be very aware that you are too performing jihad just like your brothers in Syria."
Calls seeking comment from the Investigative Project to the Syrian Sunrise Foundation and its President Ahmad Alabas were not returned.
The United States and United Kingdom suspended all non-lethal aid to rebels in northern Syria Wednesday, after the Islamic Front took over bases that had belonged to the western-backed Free Syrian Army. Officials fear the existing supplies could fall into the jihadists' hands. That assistance could include items such as radios, body armor, transportation and night-vision goggles.
The Syrian Sunrise Foundation's Facebook page states that al-Rifai helped raise $1.5 million in Tampa, $280,000 in Miami, $320,000 in Indiana, and $1.5 million in the Detroit area.
He spoke April 5 at the Mosque Foundation in Bridgeview, Ill. Two mosque leaders, Kifa Mustapha and Jamal Said, were implicated in a previous terror-support investigation. Said appears on a telephone list for the "Palestine Committee," a Muslim Brotherhood umbrella group charged with supporting Hamas politically and financially. Mustapha was a paid fundraiser for one of the committee's branches, raising more than $300,000 for the Holy Land Foundation. Five foundation officials were convicted in 2008 of providing material support for Hamas.
The Syrian Sunrise Foundation likely brought al-Rifai to the U.S. due to his reputation inside Syria as the head of a movement with a large charitable operation.
Its website says that it aims "to send aid to families, orphans, and widows affected by the conflict." The group claims to have a "well-established humanitarian network of hundreds of workers" and denies having any sort of "any political, religious, or any other agenda."
In June, al-Rifai participated in a conference in Cairo in June that supported overthrowing Assad.
The conference was also attended by radical Sheikh Yusuf Qaradawi and former Egyptian President Mohamed Morsi. The conference closed with a statement by an Egyptian cleric, Sheikh Mohamed Hassan, saying, "We're obliged to jihad in order to assist our brothers in Syria, with fighters, funding and arms."
And al-Rifai made vicious anti-Semitic statements in a 2010 speech, blaming Jews as "absolute evil" for corrupting society.
Read more at IPT
Related articles