by John Rossomando
IPT News
April 3, 2014
There are plenty of mosques in Virginia that engage in interfaith dialogue without sermons and literature promoting jihad and which have not served as magnets for terrorists and their supporters. Pointing out Dar al-Hijrah's full history is neither bigoted nor ignorant.

Demanding that people not point out that documented history, on the other hand, appears to be a naked play for political support by a legislator with bigger ambitions than the General Assembly in Richmond.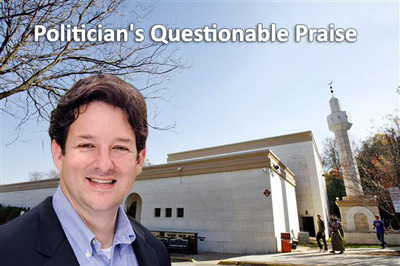 Criticism of extremist rhetoric and the numerous terror plots that have emanated from Falls Church, Va.'s Dar al-Hijrah Islamic center equals "ignorantly painting all Muslims with the same brush" and "dividing the country using fear and hate," a Virginia state legislator said.
Alfonso Lopez, a Democratic candidate for Congress, slammed Fox News host Eric Bolling for denouncing Lopez's resolution honoring the 30th anniversary of the controversial Virginia mosque.
Bolling criticized the resolution because of Dar al-Hijrah's ties to American-born al-Qaida cleric Anwar al-Awlaki and convicted Fort. Hood shooter Nidal Hassan during a March 19 broadcast.
"For Fox News to smear an important community institution by ignorantly painting all Muslims with the same brush is reprehensible," Lopez wrote on his Facebook pageand in a post on the Daily Kos. "At its core, this is a rightwing media attack on the faith and religious freedom of hard-working patriotic Americans."
Lopez created a petition attacking the "right-wing smears of the Dar al-Hijrah Islamic Center" in response to the criticisms from Fox and others. He did not respond to a request for comment from the Investigative Project on Terrorism.
The resolution, which passed the Virginia General Assembly March 3, praised the mosque for "promot[ing] cooperation, tolerance and mutual understanding among different faiths."
Dar al-Hijrah may engage in inter-faith outreach. But it also has a checkered history in its preaching, in addition to the radical people it has attracted and the terrorists who prayed there.
Lopez also downplayed the mosque's established connections with terrorism and extremist rhetoric by playing up the charitable activities and interfaith activities it engages in under the rubric of dawah (Muslim evangelism).
"In 2013, the members of the center provided more than $80,000 in assistance to community members struggling to pay their rent, and served 200 families from all faith backgrounds each week through their weekly food bank," Lopez wrote on his Facebook page.
That's lovely, but it doesn't erase the mosque's history and law enforcement assessments of it. U.S. Department of Homeland Security reports obtained by the IPT have noted that the mosque "has been under numerous investigations for financing and [providing] aid and comfort to bad orgs and members" and have called it a "front for Hamas operatives in U.S."
Among those bad members, Awlaki served as an imam at Dar al-Hijrah before leaving the United States. Two 9/11 hijackers attended services there, as did Fort Hood shooter Nidal Hasan and terrorist financier Abdurrahman Alamoudi.
The Washington Post noted in 2011 that "almost no other mosque in the country has been linked to so many cases of alleged terrorism."
Meanwhile, radical material continues to be peddled by the mosque.
Books the Investigative Project on Terrorism bought during a Dar al-Hijrah's book sale last fall included texts sanctioning hatred and violent jihad against non-Muslims. These books raise questions about the mosque's commitment to tolerance and understanding.