Gatestone Institute, by Soeren Kern, February 13, 2017:
"Whoever behaves in his host country as the reports suggest has not only lost any claim to our hospitality but also their right to asylum!" — Mayoral candidate Volker Stein, Frankfurt.
The actual number of migrant-related sex crimes in Germany is at least two or three times higher than the official number. Only 10% of the sex crimes committed in Germany appear in the official statistics. — André Schulz, head of the Criminal Police Association.
An even more toxic practice is for police deliberately to omit any references to migrants in crime reports. This lapse makes it impossible for German citizens to understand the true scale of the migrant crime problem.
City police asked German media to delete any images of the suspect. A note for editors stated: "The legal basis for publishing the surveillance photos has been dispensed with. We strongly urge you to take this into account in future reporting and to remove and/or make changes to existing publications."
"As a refugee, it is difficult to find a girlfriend." — Asif M., a 26-year-old asylum seeker from Pakistan, in court on charges he raped one woman and attempted to rape five others.
German authorities are investigating reports that dozens of Arab men sexually assaulted female patrons at bars and restaurants in downtown Frankfurt on New Year's Eve 2016.
The attacks, in which mobs of migrants harassed women in a "rape game" known as "taharrush gamea" (Arabic for "collective sexual harassment"), are said to have mirrored the mass sexual assaults of women in Cologne and other German cities on New Year's Eve 2015.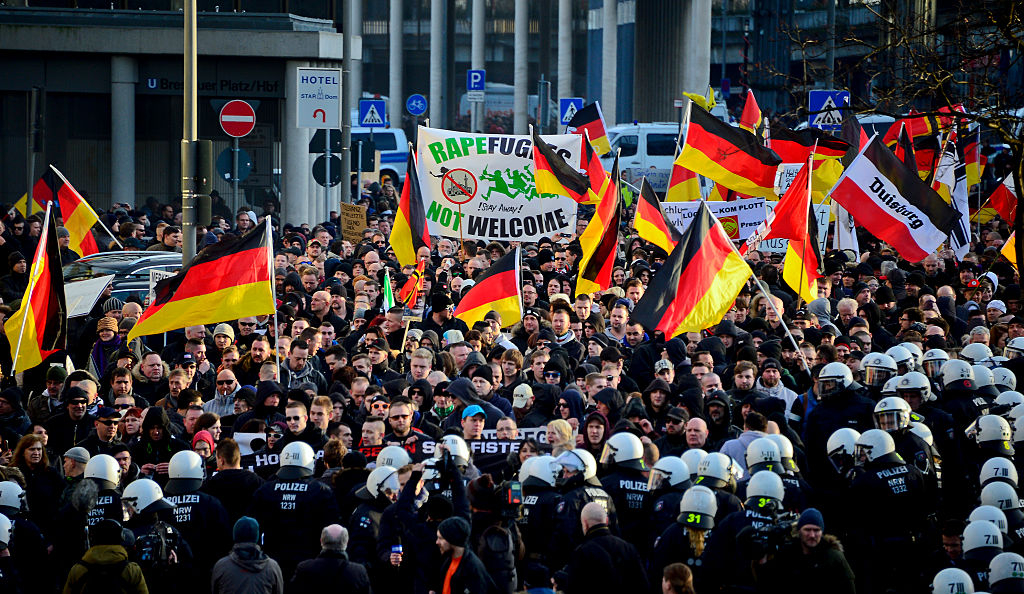 Germans protesting the New Year's Eve 2015 mass sexual assaults wave flags, alongside a banner saying "Rapefugees Not Welcome," on January 9, 2016 in Cologne. (Image source: Getty Images)
A report published by Bild on February 5 alleged that some 900 migrants, many of whom were intoxicated, gathered at the central train station in Frankfurt on December 31, 2016. Police blocked their access to the Mainufer, a downtown pedestrian area along the Main River and the site of a large New Year's celebration, so the migrants walked to the Fressgasse, another downtown pedestrian zone known for its restaurants and bars.
Witnesses said that groups of up to 50 migrants of "Arab or North African" appearance entered several establishments and began sexually assaulting female patrons. They also stole handbags and jackets, threw bottles and firecrackers, and, for good measure, finished their victims' drinks.
Frankfurt Police insist they did not know about the incidents until Bild, the newspaper with the largest circulation in Germany, reported on them. It remains unclear why the victims waited more than a month before coming forward with their complaints. A police spokesperson said the claims are "worrying" and "cannot be excluded."
Some say the incidents in Frankfurt harken back to those in Cologne, where police covered up the sexual assaults for several days, apparently to avoid fueling anti-immigration sentiments, until local media reported on them. Others question why no cellphone videos or photographs surfaced on social media to corroborate the claims.
Previously, the police in Frankfurt reported only one assault on New Year's Eve: a 30-year-old migrant from Afghanistan attacked a 25-year-old woman at the Mainufer.
Frankfurt's Mayor, Peter Feldmann, said: "There is zero tolerance for any abuses. I have great confidence in our police. They should always be contacted immediately. Only then can they do their work."
Christoph Schmitt, security spokesman for the ruling Christian Democratic Union (CDU), said: "It is unacceptable that women have been treated this way. If mobs of male refugees are making the city unsafe, then we need more police on the streets and more video surveillance."
Mayoral candidate Volker Stein said: "While we had high contingent of police at the Main River, the rest of the city was left to the rampaging hooligans. Whoever behaves in his host country as the reports suggest has not only lost any claim to our hospitality, but also their right to asylum!"
Other German cities also reported sexual assaults on New Year's Eve 2016, despite an increased police presence and crowds that were far smaller than on New Year's Eve 2015.
Police reports show that Germany's migrant rape crisis continues unabated, although accurate statistics are notoriously non-existent, this in one of the most technologically advanced countries in the world. German authorities have repeatedly been accused of underreporting the true scale of the migrant crime problem in the country.