Gatestone Institute, by Soeren Kern, February 23, 2017:
"I am not ashamed of what I am. I am a Muslim, that is to say, submissive to Allah who created me and who by his grace has harmoniously shaped me." — Salah Abdeslam, a Belgium-born French national of Moroccan descent and the main suspect in the November 13, 2015 attacks that killed 130 people in Paris.
The Grand Mosque of Paris announced that it was withdrawing from the Foundation for Islam of France, a new, government-sponsored foundation charged with "contributing to the emergence of an Islam of France that is fully anchored in the French Republic." In a statement, the mosque, which represents 250 of the 2,500 of the mosques and Muslim associations in France, said that it denounced "any form of interference in the management of Muslim worship."
"An Algerian sociologist, Smaïn Laacher, with great courage, just said in a documentary aired on Channel 3: 'It is a shame to deny this taboo, namely that in the Arab families in France, and everyone knows it but nobody wants to say it, anti-Semitism is sucked with mother's milk.'" —Georges Bensoussan, a highly regarded Jewish historian of Moroccan descent, who is being prosecuted for talking about anti-Semitism among French Arabs.
"When parents shout at their children, when they want to reprimand them, they call them Jews. Yes. All Arab families know this. It is monumental hypocrisy not to see that this anti-Semitism begins as a domestic one." — Smaïn Laacher, a French-Algerian sociologist, in a documentary called, "Teachers in the Lost Territories of the Republic."
"Islamophobia is a weapon of intimidation and an invention to forbid debate." — Pascal Bruckner.
Three months after French authorities demolished the "Jungle" migrant camp, migrants are returning to Calais at the rate of around 30 a day. Most of them are unaccompanied minors hoping to smuggle their way across the English Channel to Britain.
January 1. The Interior Ministry announced the most anticipated statistic of the year: a total of 945 cars and trucks were torched across France on New Year's Eve, a 17.5% increase from the 804 vehicles burned during the annual ritual on the same holiday in 2015. Car burnings, commonplace in France, are often attributed to rival Muslim gangs that compete with each other for the media spotlight over which can cause the most destruction. An estimated 40,000 cars are torched in France every year.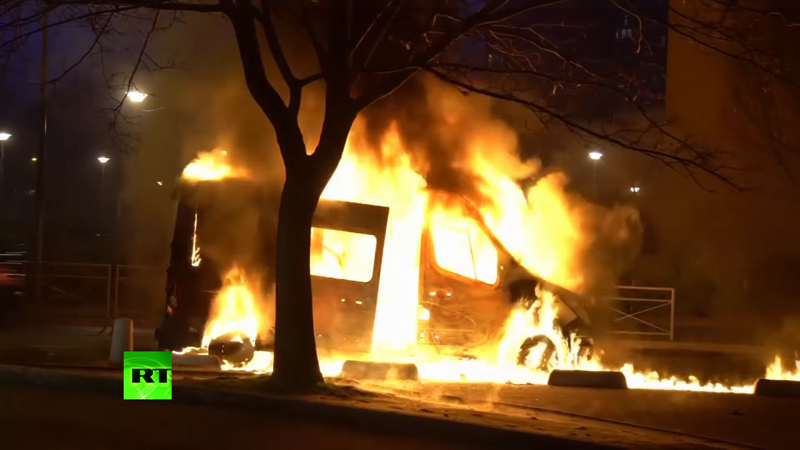 A van burns during a recent riot in a Paris suburb. Car burnings, commonplace in France, are often attributed to rival Muslim gangs that compete with each other for the media spotlight. An estimated 40,000 cars are torched in France every year. (Image source: RT video screenshot)
January 2. Approximately 3.7 million crimes were reported in France in 2016, a 4% increase over 2015, according to Le Figaro. Seine-Saint-Denis, a Paris suburb which has one of the highest concentrations of Muslims in France, ranks as the most dangerous part of the country, with 18.2 attacks per 1,000 inhabitants. It is followed by Paris, with 15.7 attacks per 1,000 inhabitants and Bouches-du-Rhône with 11.5 attacks per 1,000 inhabitants.
January 2. The Criminal Court of Paris sentenced Nicolas Moreau, a 32-year-old French jihadist, to ten years in prison for fighting for the Islamic State. He is the brother of Flavien Moreau, the first French jihadist to be sentenced for such an offense upon his return from Syria in November 2014. Born in South Korea, adopted by a French family at the age of 4, Nicolas became a delinquent after the divorce of his adoptive parents. He converted to Islam in prison, where he spent five years. Nicolas said he fled the Islamic State after 17 months due to its "excesses."
January 3. Jean-Christophe Lagarde, the president of the Union of Democrats and Independents, a center-right political party, attributed the closure of a PSA Peugeot-Citroën automobile factory to an excess of religious demands by Muslim employees. "There have been difficulties even in my department, for example in Aulnay-sous-Bois. It has never been said, but part of the reason for the closure of PSA was due to the omnipresence of religion and the fact that there were religious demands at work, work stoppages, decreased productivity. PSA's decision to close Aulnay was influenced by this aspect."
January 3. The Administrative Court of Poitiers dismissed a lawsuit filed by the Coalition against Racism and Islamophobia (CRI), which tried to ban a 14-page document aimed at preventing radicalization in schools. The document called on teachers to monitor several criteria, including "uncut long beards," "shaved hair," "Muslim clothing," "refusal of tattoos," and "weight loss associated with frequent fasting." The document also referred to behavior such as "identity withdrawal," "selective exposure to the media," and "political rhetoric" concerning Palestine, Chechnya and Iraq. The document urged teachers to monitor closely students interested in the "history of early Islam." The court emphasized the strictly internal nature of the document, which was deemed to be "devoid of any legal effect" because it contains "no mandatory provisions."
January 4. Of the 230 French jihadists who have been killed in Iraq and Syria, seven were killed by American drones, according to Le Monde. "The French targets had a twofold status: they were military objectives, the elimination of which is theoretically governed by the law of war, and they were also targets of judicial proceedings in France. In the name of the 'self-defense,' which the coalition states claim, military logic prevailed over the right to legal defense," the paper complained.
January 4. Jean-Sébastien Vialatte, the deputy mayor of Six-Four-Les-Plages, ordered police to visit the Reynier Primary School there on two occasions after he heard rumors that the school was requiring students to attend Arabic language classes. The courses, which were optional, not mandatory, have since been cancelled.
January 5. The Magistrate's Court of Rennes sentenced a 34-year-old man to 17 months in prison on charges of domestic violence for striking his female companion because she refused to convert to Islam. The woman said the man had "profoundly changed" after he visited Mali. "He has become radicalized," she said. "He promises Allah will take revenge against the disbelievers who do not convert. Religion has taken an increasingly important place in his life. He believes he is good and all others are evil." The man denied he ever "forced someone to be a Muslim." He added, "Before, I was like her, I smoked, I drank, but it is over now."
January 5. Farid Benyettou, a 35-year-old former French jihadist who indoctrinated the gunmen who attacked the Charlie Hebdo magazine in Paris in January 2015, admitted that he was partly to blame for the violence. "I bear a share of responsibility, I cannot deny it," he said in an interview with Le Parisien. "I preached hate, I distilled this ideology even though it was not me who told him to commit this massacre. I served my prison sentence, I paid my debt to society, but not my moral debt." He tells his story in a new book, "My Jihad: Journey of a Repenter."
January 6. A statistical analysis carried out by François Desouche, an influential French blog, found a dramatic increase in the popularity of Muslim first names given to children born in France during the past 20 years. In Paris, for example, 17.1% of babies born in 2016 received Muslim first names, up from 9.4% in 1996. In Seine-Saint-Denis, a Paris suburb, 42.9% of babies born in 2016 received Muslim first names, up from 17.3% in 1996. The trend repeats itself across France.
Also see: